The Uptrends application comes pre-packaged with a series of default dashboards that are designed to make it easy to monitor your website and web services for availability and performance. In this article you'll find information about what each dashboard has to offer.
You can get an overview of all dashboards (predefined and custom) by going to the menu Dashboards > Browse all.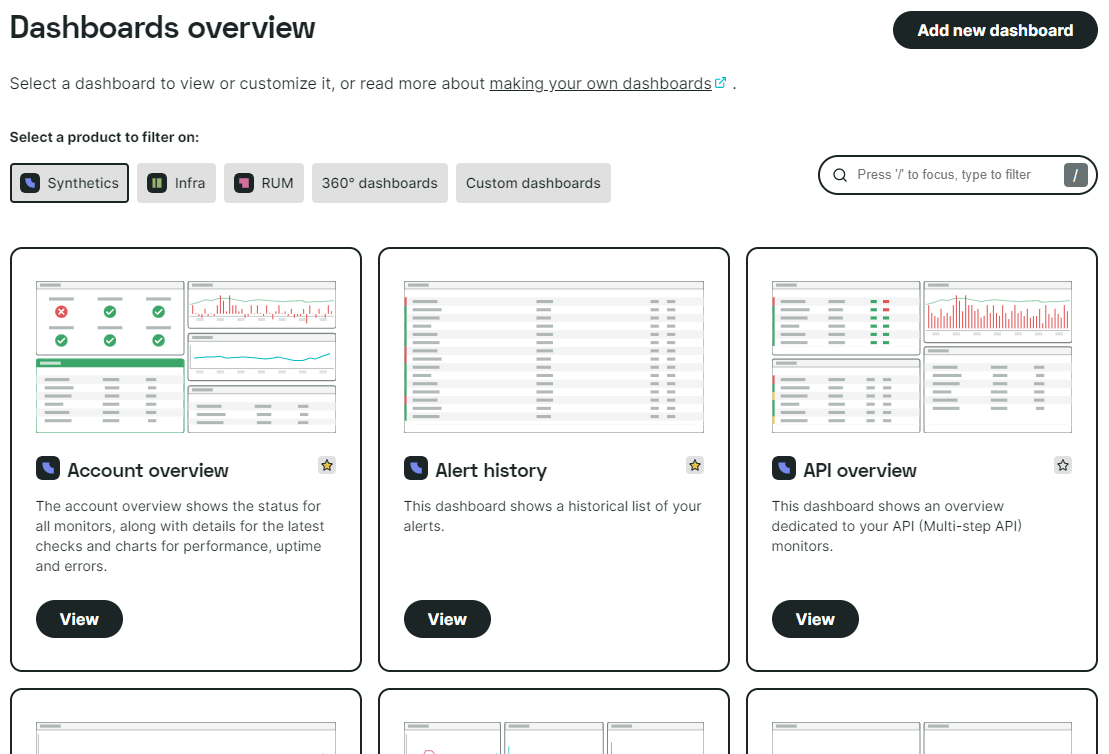 Status
Account overview
Display the status of your Uptrends account, including the uptime and (un)confirmed errors, performance, and last check data for all of your monitors, as well as a listing of when your monitors were last checked by a checkpoint.
Monitor status
Shows the current status of all of your monitors in list format, including: name, type, last check, checkpoint (name), total time, active status, alerting active status, mode, and status description.
Operations
View graphical representations of monitor errors, total time, uptime, and monitor status, as well as a list of current alerts for all monitors.
Availability & Errors
Availability summary
View your monitor uptime in period, and uptime for all monitors in either list or graphical chart format.
Uptime per monitor
View the uptime per monitor in a list with uptime percentage and confirmed errors.
Uptime table
See the uptime percentage of all of your monitors in list format.
Errors overview
Shows a comprehensive overview of your monitor errors, including: confirmed/unconfirmed in the last 24 hours, the last 7 days, and the last 30 days, as well as a list of all monitor errors from the last 24 hours, a graphical error type breakdown for all monitors, error type breakdown displayed via list for all monitors, by monitor for all monitors, and by checkpoint for all monitors.
Analysis
Monitor log
Display your monitor logs by all monitors or by individual monitors, and view details like date/time, monitor name, total time (ms), status, and description, and determine which checkpoint your monitor was checked by most recently.
Alert history
View the alert history for all monitors, displaying details such as date/time, monitor name, confirmed/unconfirmed error level, escalation levels, and reminder settings. Also includes the description of the first error that caused any alerts, and the checkpoint that was used to execute that check.
Performance
Performance summary
Display your performance over time for all monitors in both graphical and list formats, as well as the total time by hour of day, and total time by day of week for all monitors.
Performance details
View your performance over time, performance by monitor, and performance by checkpoint for all monitors in graphical and list formats.
Performance table
See a list of your captured monitor total time(s) data.
Advanced
Transactions
See the transaction step times, and average transaction step times for all monitors in both graphical and list formats.
Full page check analysis
Displays a list based, and graphical representation of resolve time, connect time, HTTPS handshake, send, wait, receive, and time to first byte.