When you log into your Uptrends account, you'll see the user interface (UI), which will look similar to this: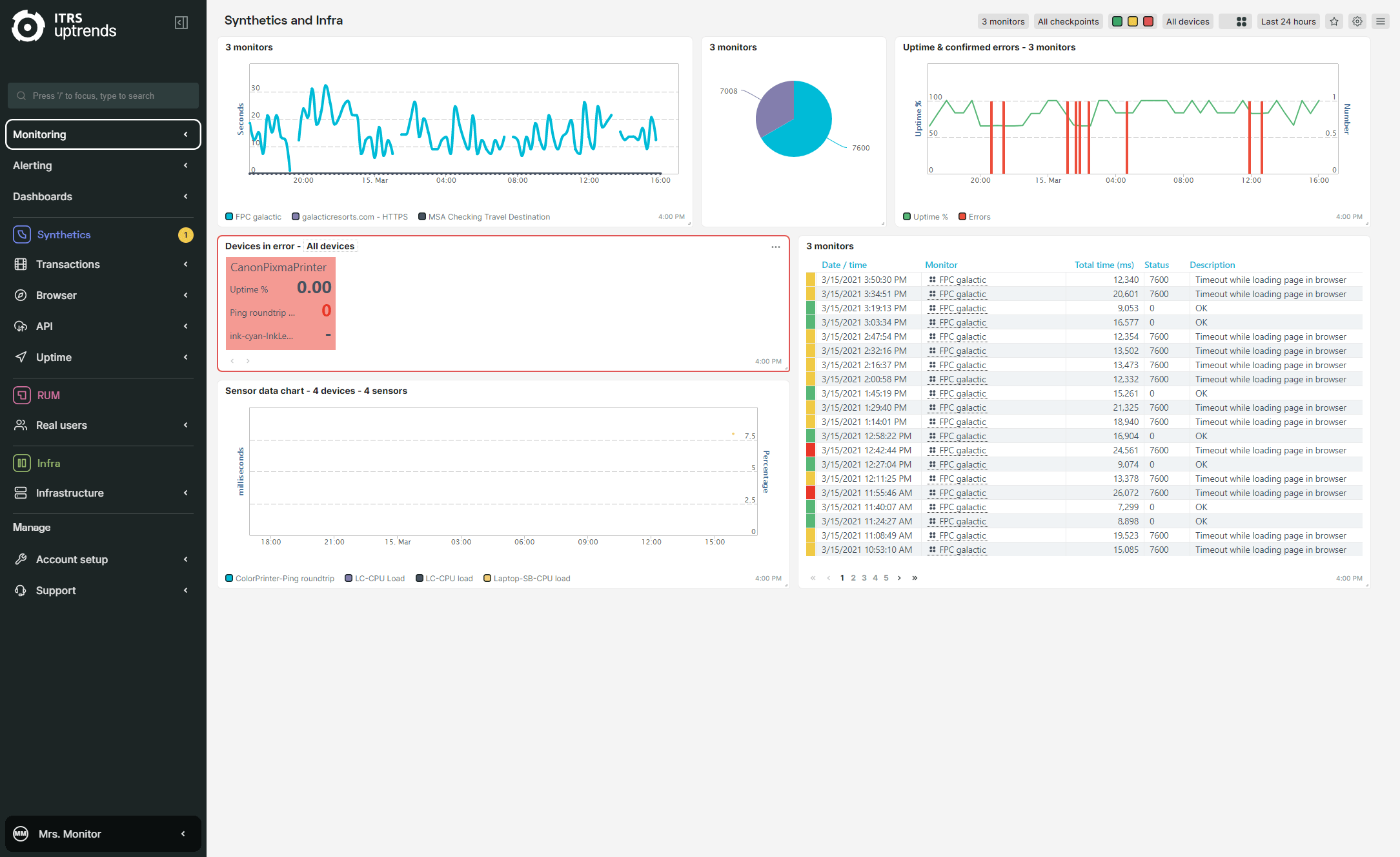 The exact look of the UI depends on the products you are subscribed to and some settings.
In this article we'll take a tour of the UI, exploring the different parts.
Main menu
The main menu is located at the left side. From here you can reach all of your setup pages, dashboards and user settings.
Note
: The side menu is the standard for accounts that are created after 3rd March, 2021. Only older accounts have access to the classic menu and the option to switch back and forth between menus. If you need more info, please see article
From classic to new UI
.
Within the main menu you'll find the following:
Search functionality, letting you search for menu items, monitors, operators and alert definitions
The most frequently needed info on monitoring and alerting
Dashboards: favorite dashboards and access to all dashboards
Sections for the products Uptrends Synthetics, Uptrends Real User Monitoring, and Uptrends Infra, only products you are subscribed to will be shown
Current unconfirmed and confirmed errors indicators (by product)
Support and knowledge base access and feedback option for sending us quick feedback
Your profile info
Hubs
The hubs are the starting points for central topics in Uptrends. They provide information on related key concepts linking to further reading. From the sidebar of the hub you can go directly to setting up things or to related knowledge base articles.
The hub also shows condensed info about the actual situation, including some setup metrics and monitoring data.
The alerting and Infra hub are two examples. You can access them from the side menu menu by going to Alerting > Explore alerting and Infra > Infrastructure > Explore Infra respectively.
Dashboards
The dashboards are showing your monitoring data on tiles. They can be customized to your needs.
Some things you should know about dashboards:
You can mark dashboards as favorite, which will add them to the Favorites section in the Dashboard menu
When you want to change the settings of a dashboard, select the gear icon at the top right.
To change the settings of a tile on a dashboard, select the ellipsis (…) button.
For an overview of all dashboards go to All dashboards popup opens, that allows you to browse and search all Synthetics, Infra, RUM, and 360° dashboards.
. The
All articles in this category