Join us!
Uptrends is the place where talent and experience work together on our mission to become the best monitoring product in the world. We're proud of what we've become so far, but we need you to help push us to the next level. We have a lot to offer.
(Psst. Looking for the Dutch jobs site?)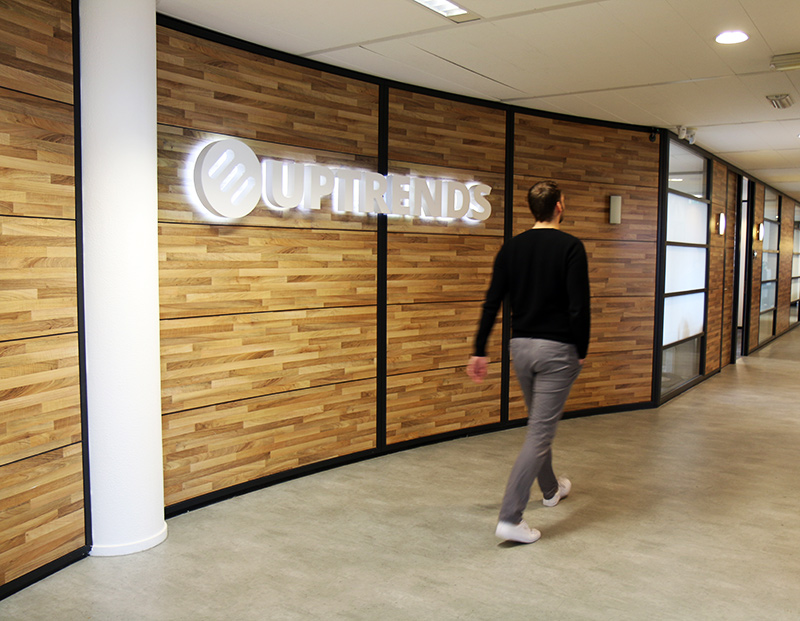 Together we work on our SaaS monitoring service, giving customers insight into the uptime and performance of their sites, servers, and APIs. With headquarters located in Alphen aan den Rijn (The Netherlands), we also have offices in Düsseldorf (Germany), and Paris (France).
Current positions
Are you unsure about the job title that fits you best? Choose your best match; your application always ends up with the right person from the right team. If you don't see an open position that you like, but you think you can still be a good addition to our team, don't hesitate to send an open application.
This is what we offer
You have a work life and personal life. We consider the balance to be important, which is why we offer benefits that help you to maintain both as optimally as possible.
Work from the Alphen aan den Rijn office with two fixed days working from home.
On office days, enjoy a free, extensive lunch buffet.
Work with a diverse team of talent and years of experience.
Of course, reimbursement of travel expenses.
Three times each year enjoy a technical evening (with pizza)!
A brand new development laptop and a company smartphone.
A bonus plan in the form of an additional month's salary.
At Uptrends, we love to travel. You get 25 vacation days that you can use how you see fit.
A generous pension allowance that you can use in the way you want. Everyone arranges it their way.
A more than competitive salary, because we want to go far for new acquisitions.
We want you to be able to do your work as well as possible, so you get all the equipment you need.
Working in Alphen aan den Rijn
Our headquarters is located in Alphen aan den Rijn, centrally in the Randstad, with private parking, covered bicycle parking, and a five-minute walk from the station.
Spacious workplace
In our office, we have no large open workspaces with small desks. You get a spacious workspace, and you are in a room with a maximum of four colleagues, which is a lot more relaxed. Oh, and if you notice, we have a thing for space travel, you can see the theme throughout the entire office. Pretty cool, if we do say so ourselves.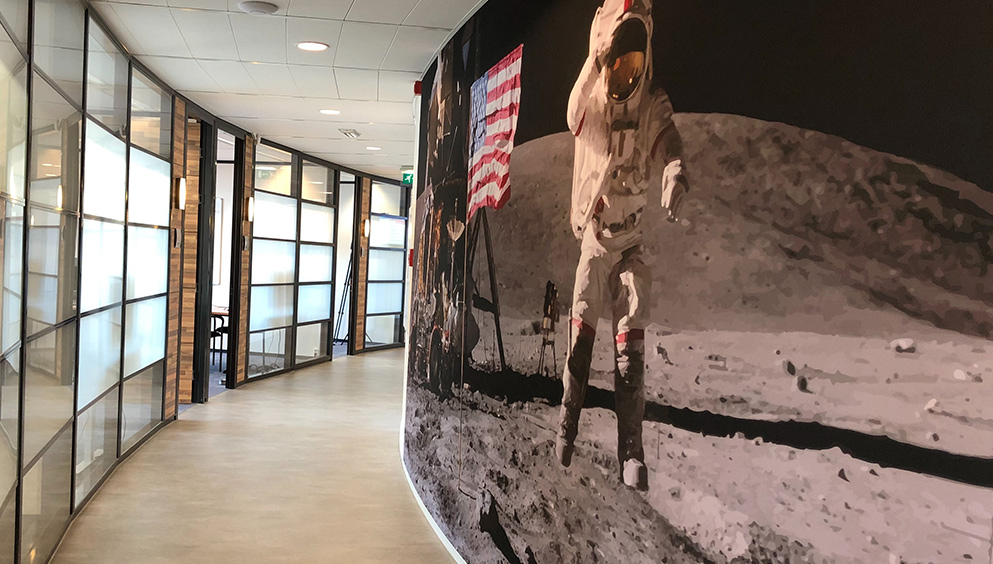 Relaxation
In addition to working, there is plenty of room to relax both during and outside office hours. Like to enjoy a game of pool, air hockey, table soccer, or a game on the Xbox? Outside office hours we hold pizza nights regularly where you can learn from your colleagues about all kinds of subjects. Our balcony is also perfect for a cozy BBQ in the summer.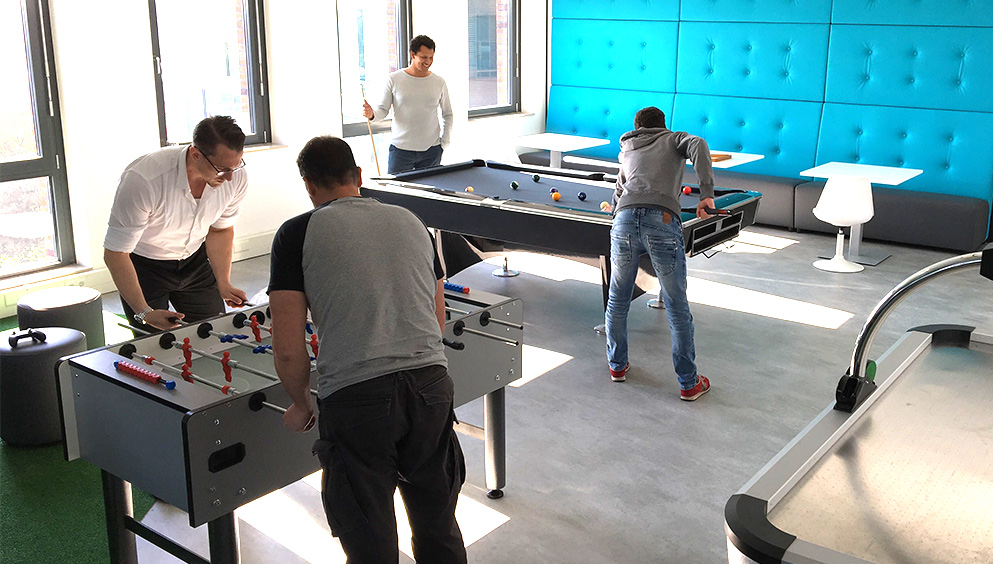 Corporate culture
Every employee is encouraged to grow professionally. Because there are no external financiers at Uptrends, there is no pressure to generate more income at breakneck speed. We grow at our own pace, which benefits the quality of our products. By creating a workplace where everyone feels at home, setting achievable goals, and showing interest in the roles and lives of every employee, we have created an environment that stimulates creativity.
Lunchtime
In the canteen, Amy provides an extensive lunch buffet every office day that varies every week. Would you like a tasty salad or something else? Don't be surprised if your preference is on the table the next day. With the summer temperatures, we open the patio doors, and you can have lunch on the balcony at the picnic tables.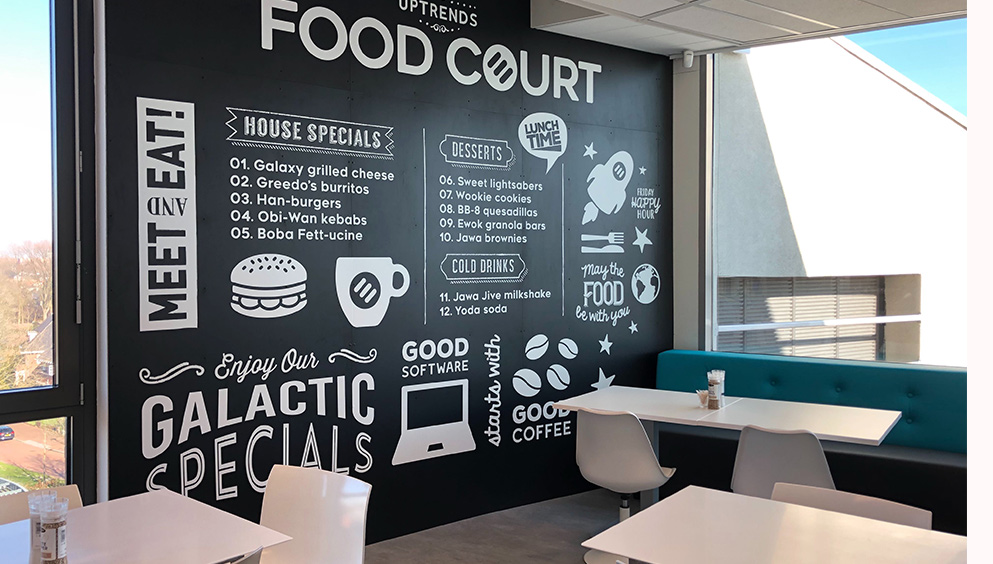 Atmosphere and productivity
We believe that you can do your work a lot better if you work in an inspiring environment and we think it is important that you feel at home in the office. Our entire office is designed for that. Furthermore, everything is aimed at ensuring that everyone can work as productively as possible, for example there are whiteboards in all rooms. Every product enhancement starts on a whiteboard!
Come join our team!
We can talk about it long or short; ultimately we hope that we have convinced you enough to come and talk to us. If you don't see a job opening that appeals to you, but you still want to meet, open applications are more than welcome!
Open applications