Lower costs, terrific value without compromise
Uptrends doesn't cut corners when it comes to delivering superior monitoring products at tiered pricing schedules tailored to meet the needs of your organization. Our monitoring packages are scalable, offering several cost-effective options without compromising quality.
Catchpoint delivers comprehensive monitoring services to its customers but at a price starting in the many tens of thousands of dollars, per user, per year. Uptrends also offers many of the same features and services, but at a price point not set exceedingly high when it comes to arriving at the intersection of cost versus value.
Uptrends doesn't charge extra for its 233 global checkpoints, retest on errors, error snapshots - no hidden costs!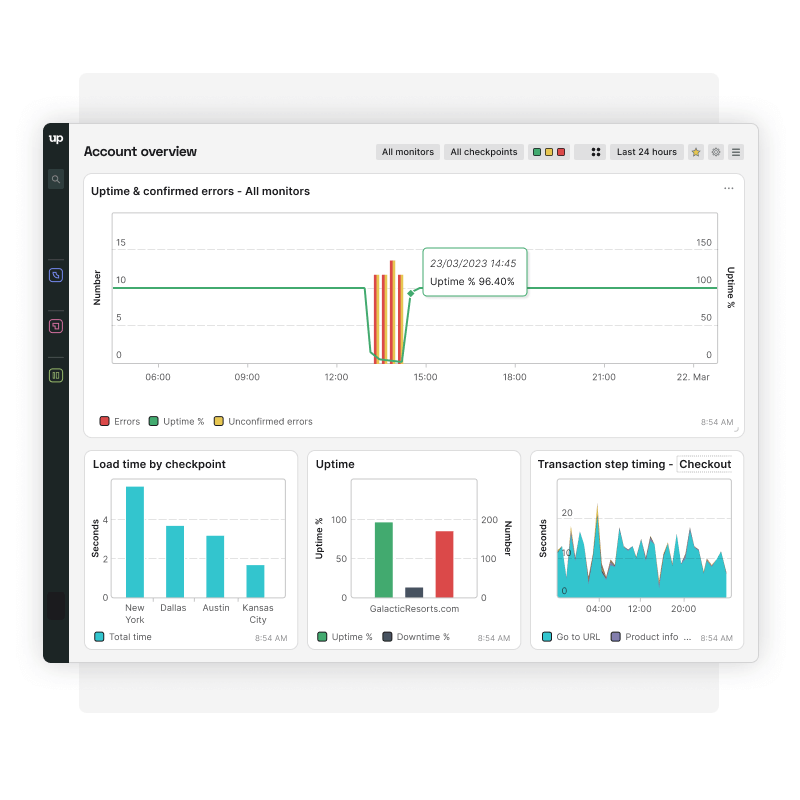 SaaS model convenient to some, frustrating to others
Catchpoint's SaaS observability model promises customers gain a complete end-to-end view into their systems. While SaaS monitoring may be desired by some, it can be restricting to DevOps and other IT professionals who rather put out fires themselves rather than wait hours for support tickets to be resolved.
When monitoring your website for speed or function, such as transactions, you need to use the same browsers that your users do. Your site may be malfunctioning without you knowing it.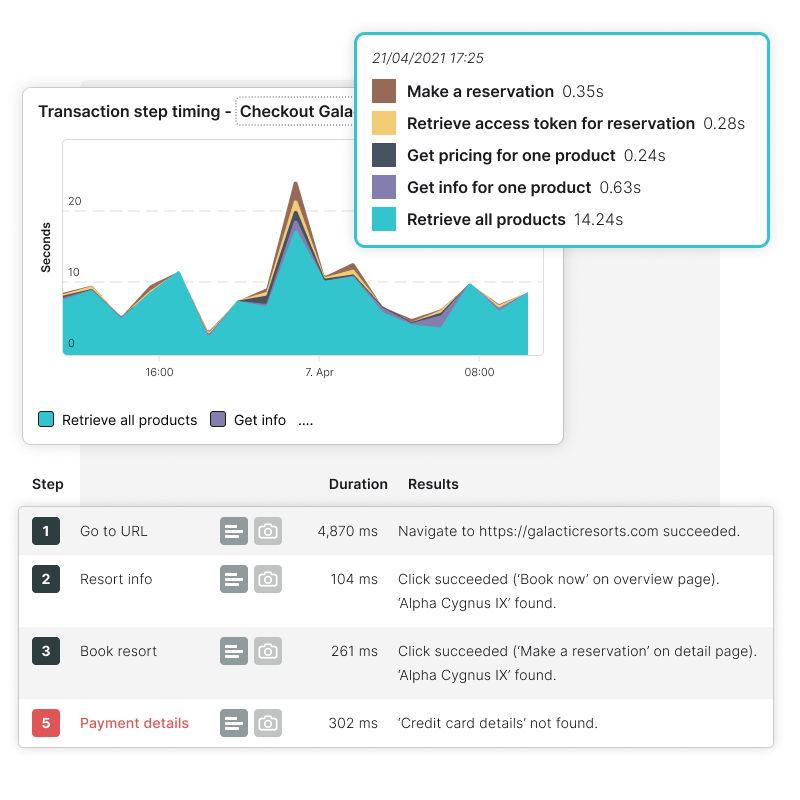 Record your transactions with a better UI
Over 2/3 of the world uses Google Chrome as their internet browser, which is why Uptrends' Transaction Recorder is a Chrome browser extension to monitor shopping carts, payment providers, forms, logins and more.
Both Uptrends' and Catchpoint's Transaction Recorder use a Selenium-based Chrome extension that allows you to capture, automate, and replay multi-step transactions. But comparisons stop there. Uptrends designed the most intuitive UI for you to easily record transactions in the browser yourself and edit them afterwards in your account.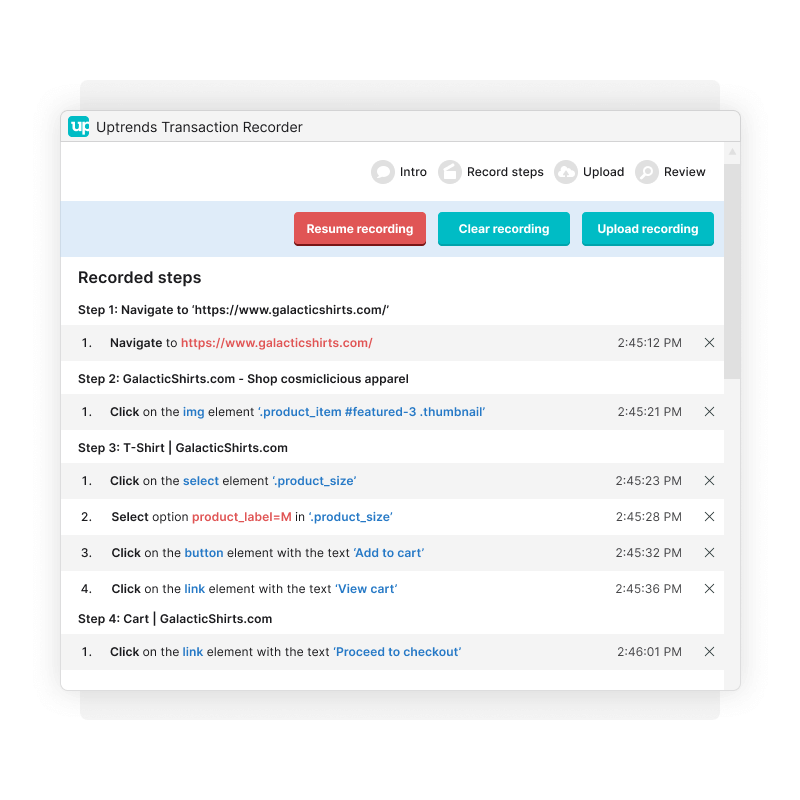 "My experience with Uptrends has been great! They saved us money over AlertSite, and customer support has been excellent!"
Jason Vculek, Senior IT Administrator at Nelnet
Synthetic Transaction Monitoring done right
Catchpoint is great about pointing out what a good synthetic monitoring tool should have — support for multiple login types, simulation of different protocols, step-by-step analytics and so forth. But the devil is in the details.
What about support for handling Captchas, two-factor authentication, and social logins? Uptrends offers custom solutions to such automated testing challenges. In addition, Uptrends' Full Page Check monitors offer comprehensive, multi-browser monitoring, third-party and mobile monitoring on an elemental level displayed in an easy-to-read waterfall reports. We're constantly rolling out user-friendly improvements to our air-tight monitoring capabilities.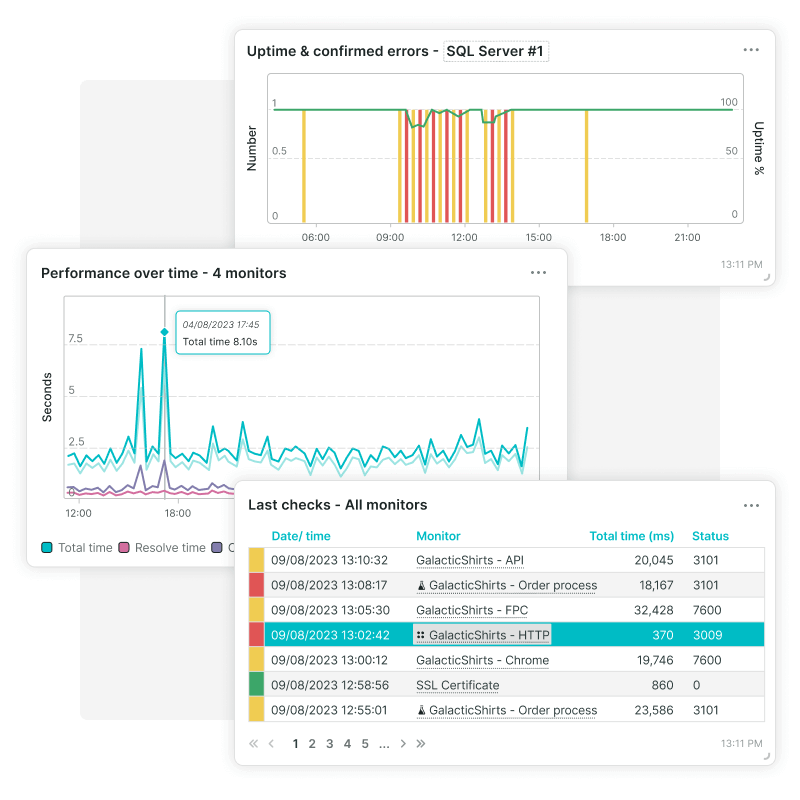 Pricey doesn't equal better performance
There may be lots of benefits to monitoring your applications using SaaS monitoring providers like Catchpoint, which can be convenient to some, but can also be very costly, restricting and frustrating to some IT teams used to implementing changes themselves — not to mention monitoring fees and licensing can get confusing fast.
Uptrends monitoring offers a reliable cost-effective way to satisfy end users, DevOps teams, and IT decision makers alike. Monitor from hundreds of nodes around the world. Receive alerts on dozens of popular integrations. Ready to engage?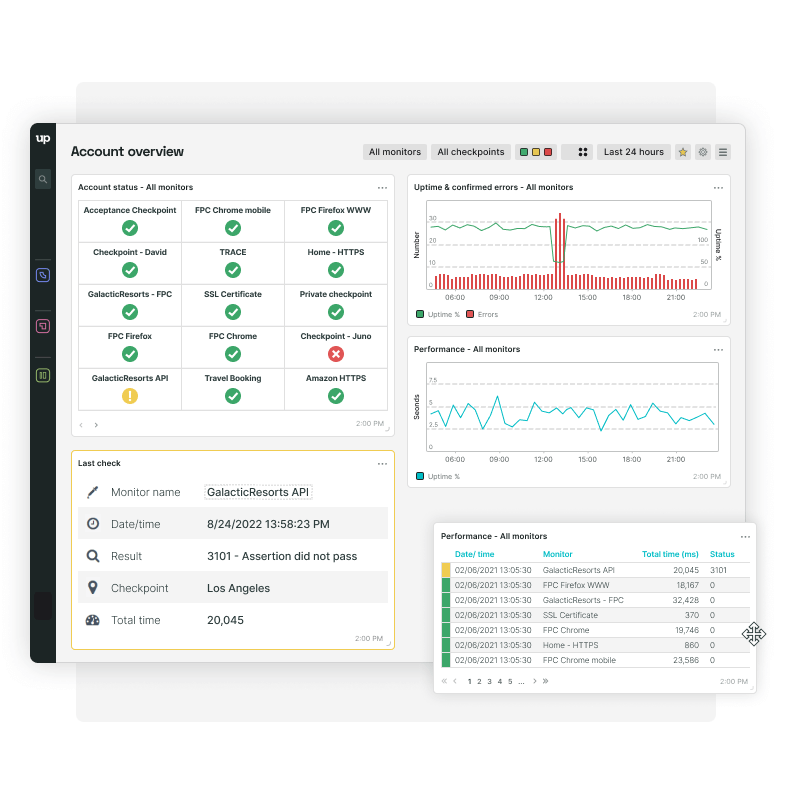 Catchpoint users, give Uptrends a try
Still on the fence about making the switch from Catchpoint to Uptrends? How about test driving Uptrends free for 30 days with no obligation? Then, let Uptrends' team of performance experts guide you toward delivering a seamless, pain-free migration.
Try Uptrends free for 30 days