Comparison
We tend to get compared now and then
Let's get this straight; we highly value every company that helps to make the internet faster. Our friends at Datadog do a great job at that. But not everyone's needs are the same. That's why we made it a point to shed light on the differences and the benefits we think Uptrends has over Datadog.

Take a peek at why we believe that Uptrends a much more affordable and reliable enterprise monitoring solution than our competitors. You're in the driver's seat. Choose a monitoring solutions provider that fits your needs the best, not everyone else's.
233 monitors shouldn't run in the cloud
Uptrends' checkpoint network contains 233 worldwide checkpoints. Datadog uses cloud-based locations to conduct its monitoring. Testing from the cloud doesn't accurately reflect real-world user experiences. Users are experiencing your website using busy networks on a variety of devices, many times out of reach of your team.
Monitoring from the cloud doesn't catch network latency
Every user's connection varies worldwide due to differences in connection type, local infrastructure, and the devices used. Testing cloud-based sites and services from the cloud gives you measurements that ignore much of the worl'ds lower bandwidth routes and networks.
Cloud-based monitoring misses many geographic locations
Cloud providers oftentimes build their data centers in heavily populated areas. That means many parts of the world – Africa, Middle East, or Northern Asia regions get ignored and underserved. Meanwhile, South America and Australia only get one region each. With cloud monitoring, will you ever know how your users are fairing in remote locations?
RUM can't cover the monitoring holes
When it comes to monitoring for uptime, cloud-based synthetic monitoring may miss local and regional outages because of the distribution of datacenters. And you can't rely on Real User Monitoring to fill the holes because RUM can't track uptime. If the user can't access the site, RUM scripts aren't loaded, and no data is collected or reported. You'll learn about localized outages only when users start to complain.
Transaction Monitoring
From recording to monitoring: easy-peasy transactions
With Uptrends, you don't need to know how to code. Our Transaction Recorder logs your actions as you perform them in a Chrome browser. With the Chrome plugin installed, you simply click through your site and fill in the forms the same way as your users. We take the recording and create the script for you. All included in the service!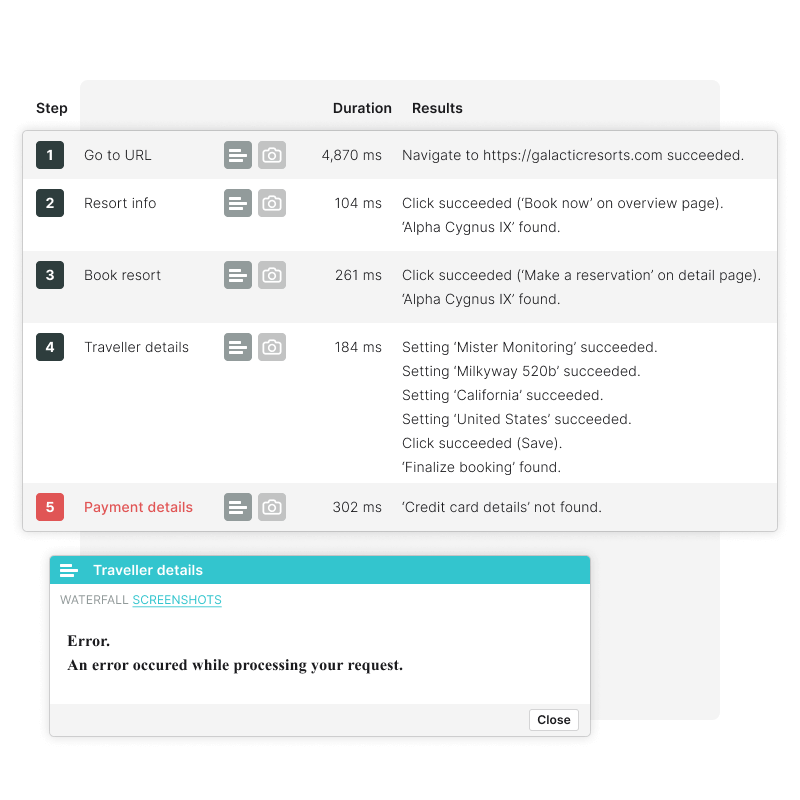 Complicated transaction support
We've seen competitors' customers switch to Uptrends because they had issues testing their transactions. We've spent thousands and thousands of hours optimizing our transaction monitoring tools; we have a dedicated transaction engineering team working day in, day out getting transactions running and stabilized for those that don't wish to do it themselves.
Waterfalls and screenshots
Screenshots and waterfall reports can give you so much more information than a standard report or chart. With Datadog, you get a standard report, but Uptrends gives you a detail-rich transaction waterfall and a screenshot to help you dig deep into every step of your transaction element by element.
Check your site every 5 minutes in all 3 main browsers
You can choose to monitor a single page native in either Chrome, Firefox or Edge at a 5-minute interval. Datadog doesn't give you a choice and checks native in Chrome, and you can only monitor with a 30-minute interval. With data from different browsers you get the full picture, and with 5-minute intervals, you have a better chance of catching errors.
Reporting
Taking reporting to the next level
View your website performance monitoring details right out of the box with our series of unique dashboard reports. These dashboards compile the most commonly accessed reports for advanced root-cause analysis, so you spend less time troubleshooting errors and problems.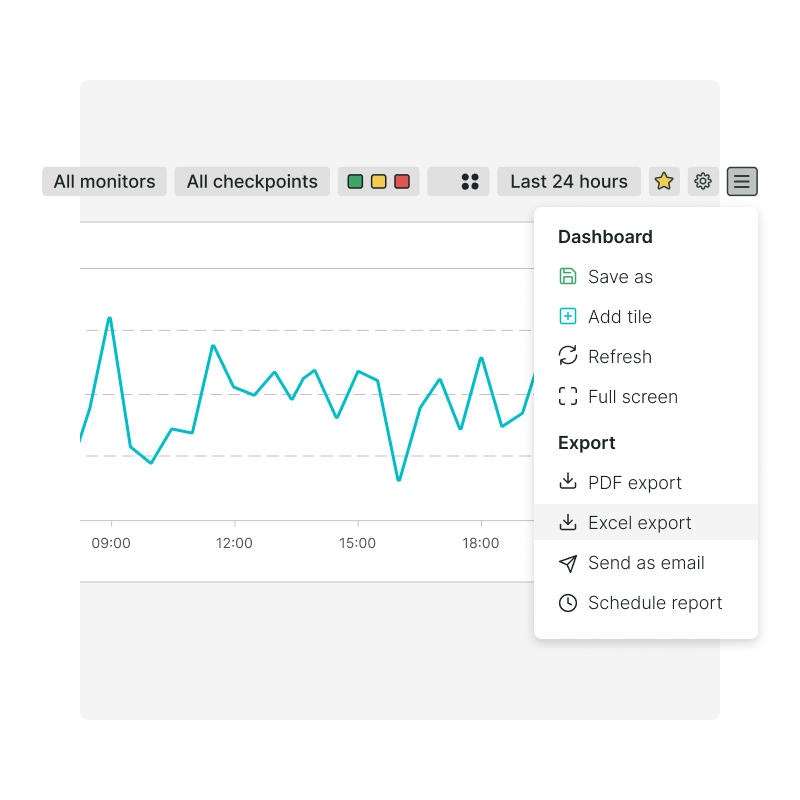 Error snapshots
A picture says more than a thousand words. Uptrends gives you a screenshot of your website at the moment we detect an error. Datadog doesn't provide error snapshots. A screenshot reduces the guesswork when troubleshooting a problem.
Custom Dashboards
Many Uptrends customers love to customize and create custom monitoring dashboards. Instead of us choosing how you view your data, you choose. Datadog gives you a set of default non-customizable dashboards for your use. With Uptrends, you have the power to control your data.
Easy to use interface
We have worked hard to make your user experience as simple as possible. In fact, customers that switched from Datadog to Uptrends tell us they love Uptrends' intuitive interface, making it easy to find what they need.
HTTP status code checks
Sometimes status code 200 is not OK; e.g., you may need to ensure that a redirect is working properly. With Uptrends you can choose which HTTP status code defines an OK. Datadog doesn't have status code checks.
Advanced monitor types
Monitor your APIs, (S)FTP, and SSL Certificates
Knowing that your DNS, SSL Certificates, or FTP are unavailable is great, but knowing where they are down is even greater. With over 999 global monitoring checkpoints watching over your services 24/7, it is no surprise that web professionals choose Uptrends.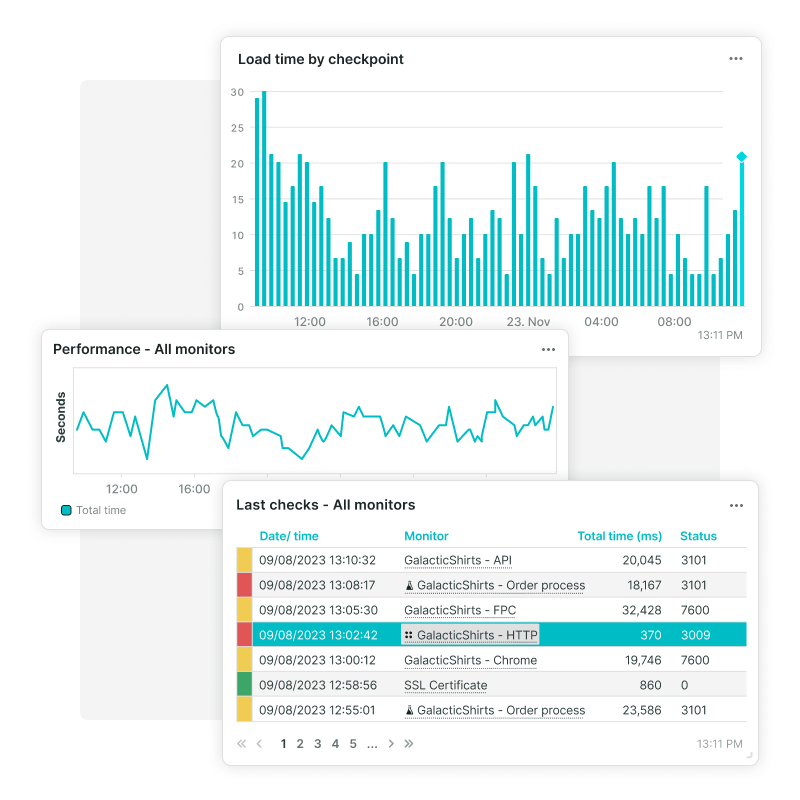 Monitor multi-step APIs and webservices
Your API needs to communicate seamlessly 24/7, and Uptrends can help! Keep everything online all the time, even when you're not around. Use multiple regular expressions to set up complex pattern matching and even set up multiple chained API calls. Regardless of whether your API returns XML or JSON responses!
FTP and SFTP Monitoring
When your service includes FTP and SFTP, it is important for you to know if those services go down or have performance problems. Datadog doesn't offer FTP and SFTP monitoring. With Uptrends FTP and SFTP monitors, you will know about service outages and performance problems. You can even test your downloads!
SSL Certificate Monitoring
Invalid and expired SSL certificates will send 80% of your site traffic packing, so it is important to know the status of those certificates. Datadog will notify you after the fact, but Uptrends will send you reminders upfront, so that you don't have to deal with losses due to expired certificates.
Alerting
Get the message out there with rich alerting options
You have many different methods to get alerts to your team. Depending on the error and your staff's needs, you can choose one or multiple communication methods.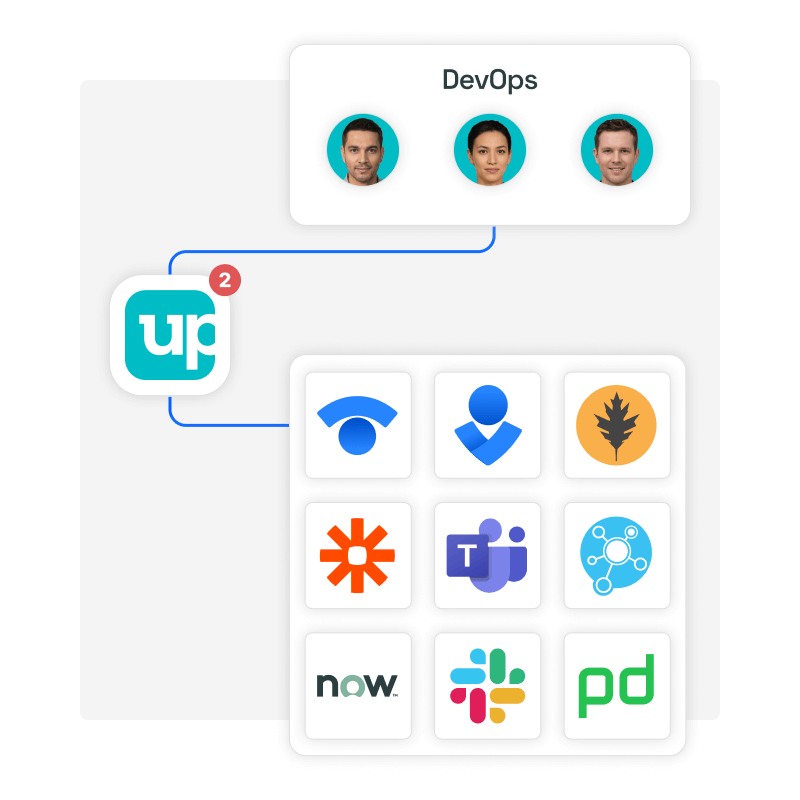 Slack integration
Having the communication tools your team uses most often integrated into your monitoring tool is a real advantage. We integrated Slack, PagerDuty, Statushub, VictorOps, ServiceNow, and webhooks directly into Uptrends Monitoring. Datadog doesn't have Slack integration. With Uptrends, you just have to click a few buttons for Uptrends/Slack simpatico!
Unlimited operators
Our Business and Enterprise products let you add as many operators as you want at no additional costs, and our Starter, Premium, and Professional versions have more operators cooked in than Datadog's comparable versions. Uptrends provides flexibility for growing teams.
Voice alerts
Sometimes SMS and email go unnoticed or get ignored. For critical alerts, Uptrends can call the on-duty team member using an automated message. Datadog doesn't offer phone alerts. When was the last time a tweet, email, or text message grabbed your attention during a good game or pulled you out of a sound sleep? Uptrends' phone alerts keep your team aware.
Our customer support is available 24/7 - in 4 languages
Our customer support teams are located in the US, France, Germany and The Netherlands. That's why you can get world-class support whenever you need it, and there's a pretty high chance you'll get one-on-one support in your language as well. When you need help, we're here.
A full month of testing, no credit card needed
With Uptrends you have the time to learn the system, set up your monitors, and analyze your data, and our support team is there to help you every step of the way. If you're still not convinced after 30 days as to the value Uptrends provides, no action required. You won't be charged a dime until you have chosen to stay with us.
Try Uptrends free for 30 days