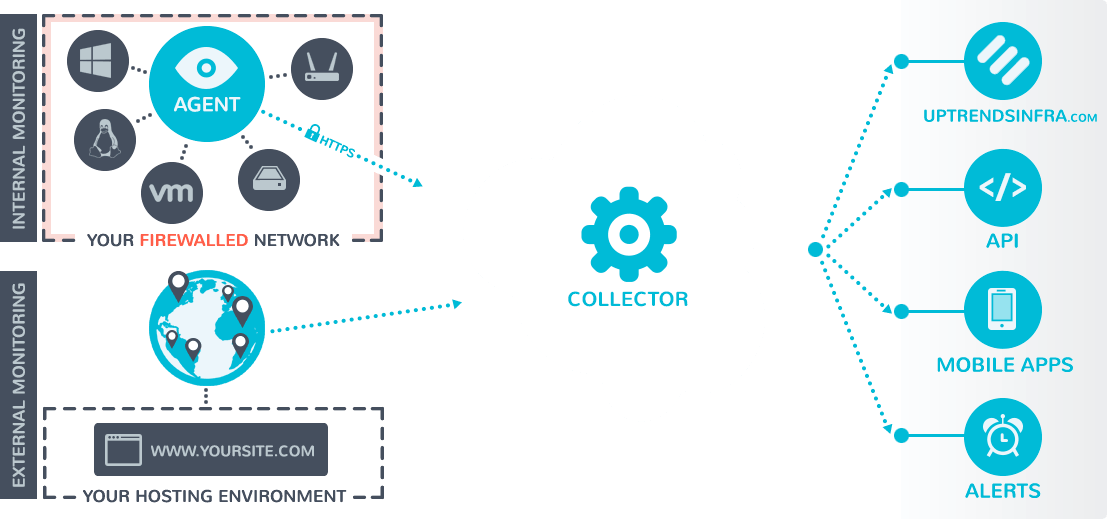 What is Network Monitoring?
Uptrends Infra is a sophisticated but eminently simple monitoring product. Why is it so simple, and how is that possible? First, the Infra service operates from the Cloud. There is no new software or hardware to buy, either. Simply use the service. Try it, and if you like it please feel free to subscribe. With Uptrends Infra, our service will monitor all the devices and applications running on your network. It will also offer an outside view of your network and websites. (The end-user perspective is an important feature of every Uptrends product.) We monitor within your network by performing checks on one of your servers, and the results are pushed back to our servers. This process employs our agent software: a small satellite application installed inside your firewall. The agent contacts our online collector service, which in turn provides the data needed for alerts and reports.
Quick, secure agent installation
The agent runs with equal fluency on Windows and Linux computers. So, once it is installed and configured in our online web application (where all monitoring management takes place), the agent operates autonomously. It regularly obtains instructions, executes the monitoring checks and pushes the measured data back to our collector service for subsequent processing. The agent communicates with the collector by means of a secure HTTPS connection, but of course all HTTPS traffic is initiated by the agent. So, obscure firewall rules are entirely unnecessary. The agent will function transparently as long as it has normal outbound Internet access. Because the Infra agent handles the data, you will have complete access without the added concerns of hardware and programming.
As always, Uptrends makes it easy to start monitoring. Simply download the installation file and execute it on at least one server. One agent can handle multiple servers, but for the ultimate assurance you can place one agent on each server. Once you have installed the agent, provide your Infra credentials and the agent will automatically register as part of your account. Basic monitoring begins at that point, and immediately you will have access to the many performance benefits of Uptrends Infra.
Combined internal/external monitoring
The installation of an agent on a server within your network facilitates a particularly powerful advantage: internal monitoring. It delivers access to hardware monitoring and allows internal application checking, by which you can monitor business software, web applications and web services that run on local servers. These aspects are generally invisible from any perspective outside your network.
Uptrends Infra maximizes performance and value with the addition of external monitoring. With the agent in place, you can leverage our worldwide network of dedicated monitoring locations to monitor your websites, web services and other server capabilities, and gain the important benefit of an end-user perspective. After all, you want to maximize your visitor conversions. Without a way to monitor the users' experience, you can only guess at the impression they have.
Agents, devices and sensors
Uptrends Infra's agent software performs the actual monitoring work, and of course it runs on either a Windows or Linux server. Each agent starts out by monitoring its own server, which means that each agent take charge of a particular device in your account. From there, you can add to the account all the devices you want to monitor. We can monitor your physical devices—including servers, PCs, routers and printers—but we can also cover virtual servers and services or data from processes within or outside your network. The Uptrends approach is particularly robust, because it surveys potential problem spots over an area far greater than your own system.
Each device in your configuration is monitored by an agent, from which you can receive data and alerts. You then have the ability to control which metrics are monitored by defining one or more sensors for each device. Typically, multiple sensors will be applied to a single server device in order to gather basic data relative to the CPU load, disk space, memory and network usage. However, there are many available sensor types that are specific to the type of device or the specific role it plays. So, for each sensor you will simply define which values are acceptable and which values should warn you or alert you about unexpected situations. We make it easy with a great interface, quick operation and outstanding customer support.
Reporting, configuration and alerts
All data is securely collected by the Infra collector service. To access it, simply login to your account at Uptrendsinfra.com. There you will find our expertly designed dashboards, but you are free to create completely new ones to fit your objectives. The dashboards can be used to manage your data interactively, on a routine or need-to-know basis, but they can also be configured as a master display for continuous monitoring. Imagine the benefits of having your very own Internet: With Uptrends Infra, you will have all the performance and assurance you need, backed by a global network of checkpoints and great service whenever you need it!
We make it easy for you, the Uptrends user, to manage and understand your monitoring system. You can instantly switch from the interface for parameter settings to the interface for report generation, all within the online environment. You can easily manage multiple devices and sensors, set up access rules and configure the settings you want for all monitoring activities. Then, you can choose the parameters for alerts, including their transmittal to a selected group of team members and customers. Only the people who need to see those alerts will do so, and you can choose how they get them. With e-mail and SMS/text messages, you and your personal network will always be on the case. Use advanced timeline and escalation level options to set up duty schedules for your operations department. All settings and configurations are done quickly and easily online, without the need for programming expertise. Uptrends has taken care of that in advance, so you can concentrate on the performance of your websites and servers.
Security
Security is a top priority for any customer, especially when it comes to the management and storage of monitoring data and settings. That is why Uptrends is upfront in regard to information storage. Data confidentiality is paramount to us, just as it is to you. Our system and technology are based on the trust we have established with clients throughout the world, and every Uptrends monitoring service functions as an extension of that trust. Rest assured that we will never share your data or information with any third party, nor will we ever use it to promote the use of spam. With Uptrends, you have a rock-solid partner in the performance and security of your entire network.
All communication in the Uptrends monitoring system takes place over secure connections using HTTPS traffic. For the sake of efficiency, we do not allow any traffic to flow through insecure connections. Therefore, the Infra agents can only contact us using HTTPS and users can only log onto our application under the same protocol. Once your data is processed by our collector service, it is stored in our secure, redundant database environment.
We, of course,encrypt your passwords in such a way that they can only be used by you. This is a very important aspect of your relationship with the Uptrends services and company. Using public-key cryptography, we ensure that only your Infra agents can use any of the networking credentials needed for monitoring. Consequently, you can store your passwords with complete confidence in their safety. (We at Uptrends could not read them even if we wanted to.) However, if you prefer to store no encrypted networking credentials, simply choose the option of storing them on your server containing the Infra agent. Those credentials will still be stored using public and private keys in the secure password vault of the underlying operating system. At no time will we have the ability to access your confidential information.