Stay in sync
Protect your website's critical systems
DNS Monitoring
You wouldn't ship a package without an address, so don't expect your users to find your website without one. Uptrends monitors your DNS A, AAAA, CNAME, MX, NS, SOA, and TXT records, as well as your root server for availability, so you know your users always reach their intended destination.
SSL Certificate Monitoring
The overall safety of data communicated via your website or web application depends greatly on the stability and correct configuration of your SSL Certificates. Uptrends verifies that your certificates are running properly, and will alert you in the event yours has been hacked or has expired.
FTP Monitoring
The ability to securely transfer files to and from (and every which order in between) your web server is essential to any website or web app. Uptrends keeps you "in the know," alerting you whenever your FTP server experiences a communication issue that renders it broken or unavailable.
Proven data capturing technology
Knowing that your DNS, SSL Certificates, or FTP are unavailable is great, but knowing where they are down is even greater. With over 233 global monitoring checkpoints watching over your services 24/7, it is no surprise that web professionals choose Uptrends.
Leaving the office but want to stay in sync with the elements of your website and web application infrastructure? With our free iOS and Android mobile apps, you can monitor your services from anywhere you have access to the internet!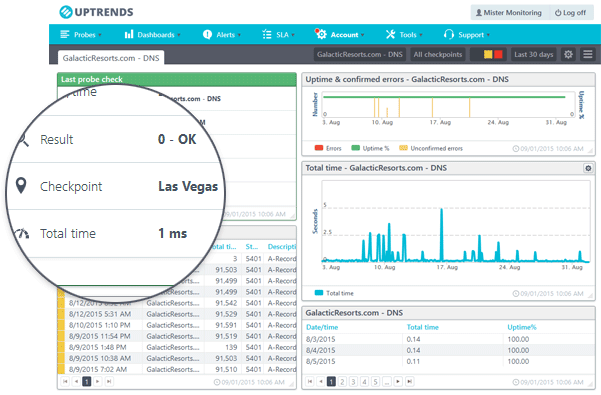 Find out before your users do
Uptrends is built to support your team, whether it is a small startup or a large enterprise. With customizable escalation levels, easy-to-use operator configuration, individualized reporting, alerting, and more, you can trust that Uptrends can support your growth.
There is no reason to be caught off-guard by your DNS, SSL Certificate, or FTP suddenly going down. Be the first to know when the worst occurs to your website infrastructure, with customizable e-mail, and SMS alerting (as well as push via our mobile apps).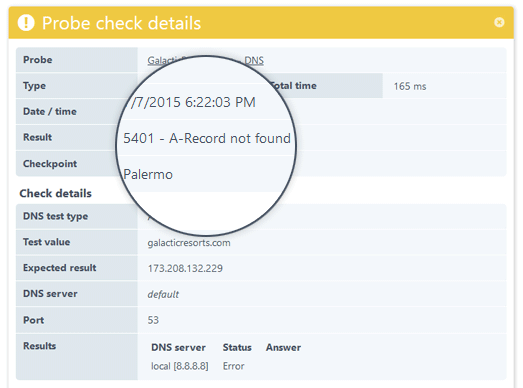 Try Uptrends for Free
See how Uptrends Website Monitoring can help you monitor your SSL Certificates, DNS, FTP, and more for yourself, with a free 30-day trial. No credit card is needed!
Let's get started