DNS Monitoring
Make sure the route to your servers stays clear
A DNS failure could mean your mail servers, web servers, or APIs become inaccessible. Worse yet, a compromised DNS entry can send your users to a completely different IP address. A malfunctioning DNS entry could lead to big problems for your brand and visitors. DNS monitoring protects you and your users.
Domain name verification
Monitor the DNS query directly to ensure your domain name is still directing traffic to your web server's IP address. Uptrends detects DNS problems as they happen to allow your team to act fast.
Extensive DNS health checks
Verify A records (IPv4) and AAAA records (IPv6), check aliases (CNAME), watch SMTP mail server mappings (MX records), monitor DNS zone delegates (NS records), verify SOA serial numbers, and more!
DNS alerts in real time
Uptrends DNS monitoring watches over your DNS day and night, and Uptrends alerts you the moment it detects a malfunction. Never settle for even a minute of downtime ever again.
Reliable DNS reporting
Monitor, diagnose, receive notifications, and access reports regarding the performance of your DNS servers from all over the world. Reports are easily shareable with your whole team!
Better DNS monitoring
If all you're watching is your IP address (A record or AAAA record), you may never catch other DNS issues that your users encounter. External DNS Monitoring from Uptrends allows you to track all of the key DNS records from a worldwide network of checkpoints. Protect your brand and your users with Uptrends DNS Monitoring.

DNS error alert escalations
Designate whom should receive error alerts based on your team's duty schedules and the error duration so that Uptrends can always keep the right people informed.
DNS Monitoring by the minute
Any amount of downtime due to DNS issues is detrimental to your brand and revenue. Check your DNS every minute 24/7 to make sure that you safeguard your DNS.
Test your DNS from your users' locations
Your users aren't behind your firewall, so why test your DNS from there? Our extensive network of checkpoints can capture localized DNS issues you wouldn't otherwise catch. Using Uptrends 233 worldwide checkpoints enables you to test from more locations and protect more users.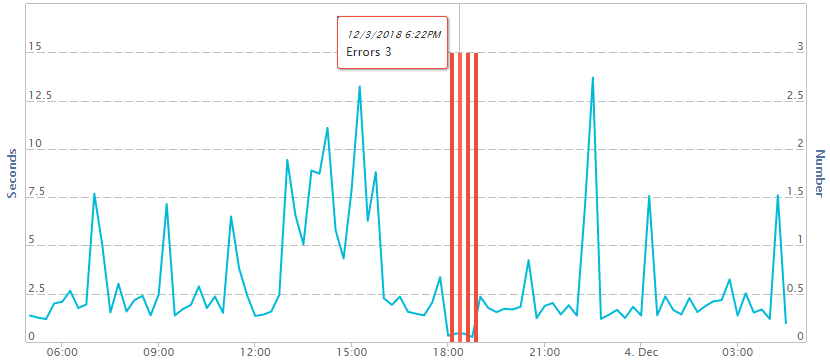 Keep in sync
Uptrends does more than DNS monitoring
Monitor everything
Monitor HTTP, HTTPS, connect, ping, SMTP, POP3, MYSQL, Microsoft SQL, Web service HTTP, Web service HTTPS, FTP, and more.
No false alerts
We check each error from a second location for confirmation, so we won't bother you unless an error really has occurred.
Traceroutes
We provide automatic trace routing so that you can see exactly where a problem has occurred helping you resolve issues swiftly and effectively.
DNS health is essential
DNS is the heart of any network including the Internet. DNS keeps communications flowing, and when it malfunctions, everything else stops. Your business can't function, your reputation suffers, and your revenue declines. Keep your finger on the pulse with DNS Monitoring.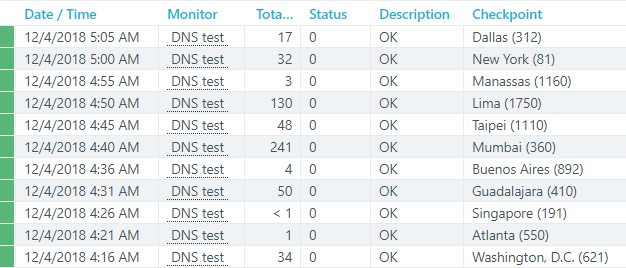 Try Uptrends DNS Monitoring today
You can try Uptrends free for 30 days with no credit card required or strings attached! With no installation needed, you can start monitoring your DNS within minutes.
Try Uptrends For Free