Monitor even more
Consider a move from Alertfox to Uptrends
Alertfox quits, so you're looking for a new monitoring partner. We hear you! Uptrends website monitoring offers the same solutions and much more; let us tell you all about it.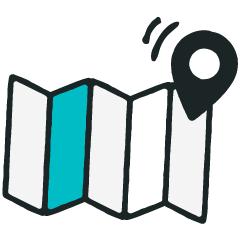 Uptime Monitoring
Uptrends' checkpoint network contains 233 checkpoints. Tackling localized issues is easy because we've got your customers' locations covered.
Web Application Monitoring
Monitor multi-step transactions such as shopping carts, login, search, and forms. Easily create your click paths with the Transaction Recorder tool.
Multi-step API Monitoring
Set up continuous automated API testing to monitor changing circumstances. Monitor your API uptime, and set up API calls to verify its response data.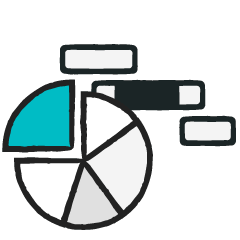 Web Performance Monitoring
Quickly identify the source of web performance issues in Chrome, Edge and Firefox. Receive load-time alerts, and view performance with waterfall reports.
Transaction Monitoring
Monitor your logins, payments, and other interactions
The Transaction Recorder allows you to fill out forms, interact with site functionality, and use any other site functions. Record and monitor your transactions in a real Chrome browser, just the way your users experience your site.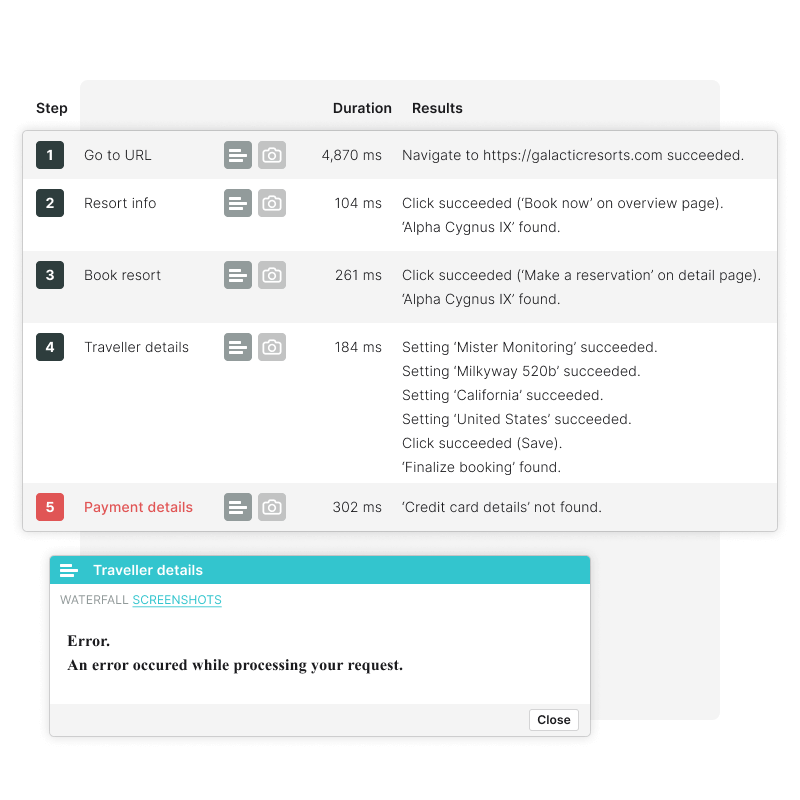 Easy recording and scripting
Our Transaction Recorder logs the actions you perform in a Chrome browser. With the Chrome plugin installed, you simply complete forms and click through your transaction like your users do on your site.
Complicated scenarios?
Uptrends has a dedicated transaction team that helps you create, optimize, and test your transaction scripts if you don't want to do it yourself. You have plenty of options, and a lot is possible. Just reach out, and we will help you along.
Screenshots and waterfalls
Analyze detailed transaction waterfalls and screenshots to help you dig deep into every step of your transaction. Check your web application's function and get performance details element by element.
Real browser monitoring
Monitor your site in Chrome, Firefox & Edge
With data from different browsers you get the full picture. Analyze your site element by element, and set up load time limits to measure your website speed.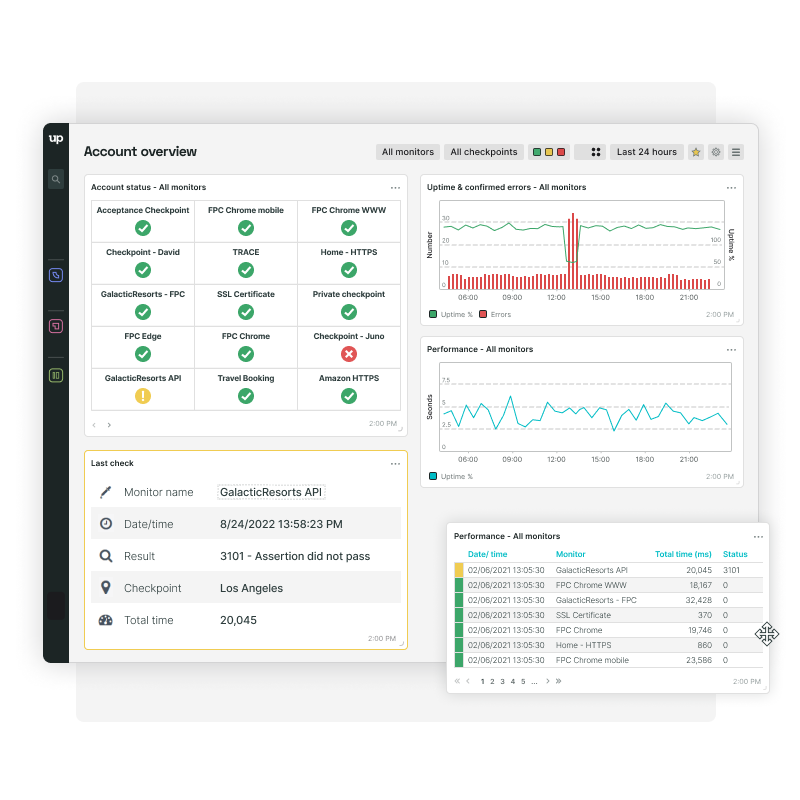 Reporting
More data, more reports, more everything
View your website performance monitoring details right out of the box with our series of unique dashboard reports. These dashboards compile the most commonly accessed reports for advanced root-cause analysis, so you spend less time troubleshooting errors and problems.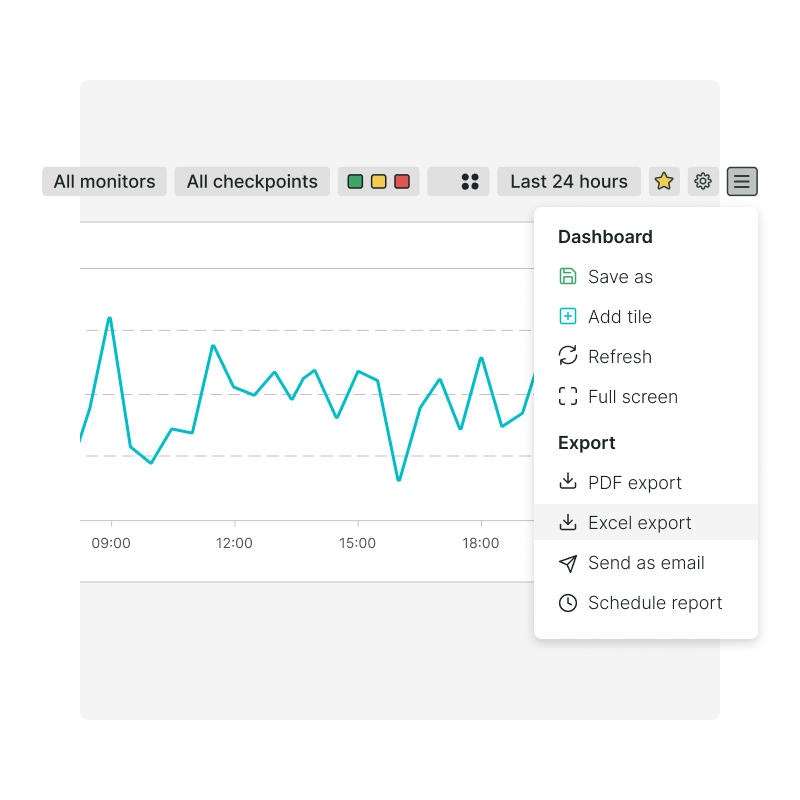 Error snapshots
A picture says more than a thousand words. View screenshots of your website at the moment we spot an error for the full story.
Custom Dashboards
Get full control over your data and build dashboards with the information that your team needs and wants to see.
Easy to use interface
Drag, drop, resize: it's all possible with Uptrends 28 configurable tile types. Build and share your dashboards with your team.
Reports in your inbox
Turn your dashboard into a scheduled report, and get your data in PDF, Excel, or HTML format directly in your inbox.
Actual user experience
Get user data with Real User Monitoring
Get aggregated performance data from your users, and see how they experience your site based on their actual locations, connections, devices, operating systems, and browsers. Fine tune the users' experiences based on their actual environments.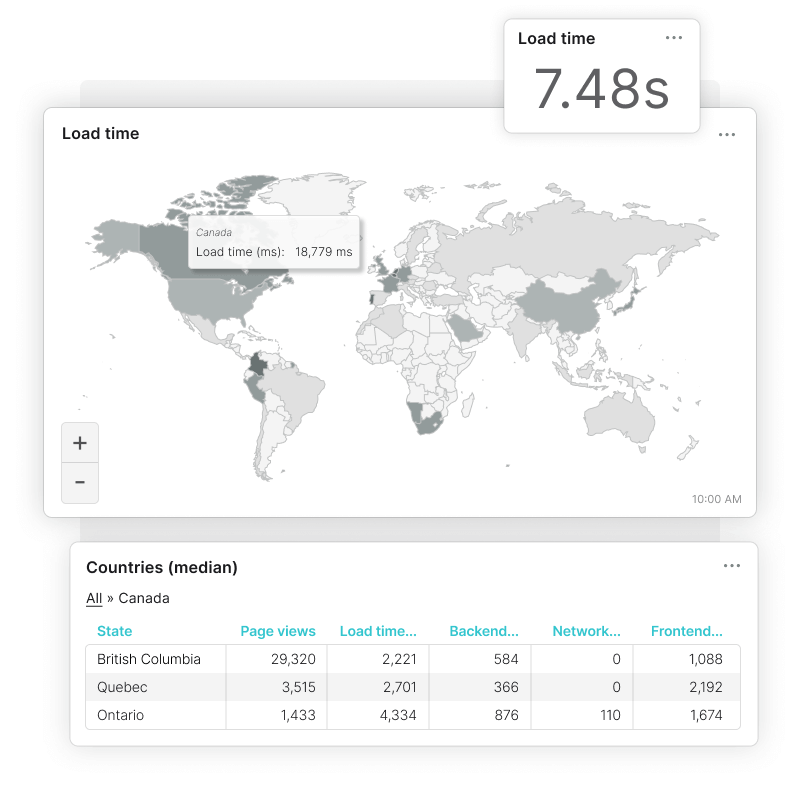 Real-time data
No sampling. Get all of your users' experience data within minutes of their page visits. No waiting hours or days; we add the data to your reporting as fast as our system can processes it often within seconds or minutes of collection.
Deep performance data
Not only do you get the download time, but you also get time to first byte, page ready time, network duration, send and receive duration, DOM and render duration. Filter down based on location and environment variables.
Getting the message
Enjoy your new alerting options
Email and SMS alerting is a great start, but we've also got direct integrations with Slack, PagerDuty, StatusHub, ServiceNow, and VictorOps. Also, our automated voice/phone alerts can get your attention when others can't. Need more? Our webhooks make it easy to integrate with the tools your team uses most.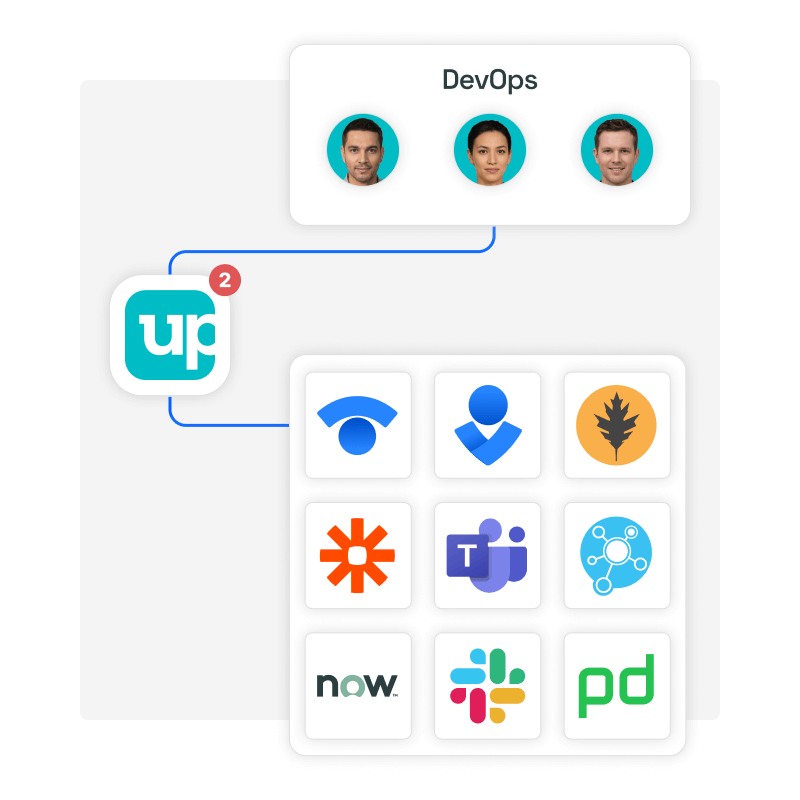 Integrations
Having the communication tools your team uses most often integrated into your monitoring tool is a real advantage. We've integrated Slack, PagerDuty, and StatusHub directly into Uptrends Monitoring with more integrations on the way.
SMS, email, and voice alerts
We've got the alerting methods you're used to plus more. Besides integrations, SMS, and email, use voice alerts when things get serious. Alert escalations get the messages out to the right people using the communication methods that work best for them and your team.
Use the Uptrends API
You can get your data directly from the Uptrends API. Our rich API lets you manage your monitors, download the raw data, get checkpoint details, and get your monitor statuses directly from Uptrends.
Support
We take care of a smooth transition
Your personal account manager and our support team are ready to migrate your monitors from Alertfox to Uptrends without any hassle. We can bulk import your monitors, and help you set up alerting the way you're used to.
Alertfox users, give Uptrends a try
Test Uptrends free for 30 days and experience the full package. We're here every step of the way to make for a smooth transition.
Try Uptrends free for 30 days