Setup process
Just a few simple steps to website status awareness
Keeping yourself or your team aware of any website woes is a matter of just a few settings. Enabling and setting up alerts on your Uptrends monitors is simple. What? You don't have an account? Try Uptrends free with a 30-day trial.
Enable alerts
When setting up your monitors, check the option to "Generate Alerts." If you need help, jump over to the Uptrends Basics.
Define the alert
From the Alerts menu, select "Add Alert Definition." Name the alert, and choose the monitor or monitors for the alert.
Pick an alert method
Decide who gets the alert and how. Options include e-mail, SMS/text, phone/voice, Uptrends mobile apps, integrated services or webhooks.
Escalate as needed
With up to four levels of escalations, you can decide who needs to respond and when based on error duration and duty schedules.
A website monitoring tool that lets you decide how to get your alerts
You have many different methods to get alerts to your team. Choose one or multiple communication methods depending on the error and your staff's needs:
Get an email.
Receive an SMS/text message.
Get an automated phone call.
Get push notifications through the Uptrends mobile apps for IOS and Android.
Integrate Slack, PagerDuty, StatusHub, ServiceNow, VictorOps, Microsoft Teams, Zapier, Opsgenie, Statuspage, or use a custom webhook.
Use the Uptrends API to interface with your own systems.
Alerts that fit your schedule
Uptrends keeps the right people informed at the right times by following your work schedules. By setting up your operator duty shifts in your Uptrends account, you can get the message to the correct, on duty personnel. No more interrupted dinners or late-night phone calls when it isn't your turn.
Flexible escalations
Sometimes an error can wait, and other times you need to act fast. With escalations, you can send the message up the support chain (up to four escalation levels), or you can change the notification from say email to a text message or any of Uptrends' other alert methods.
Minimize service disruptions
Transform the way your team handles service disruptions with Uptrends' incident management workflow. Let incident response teams respond rapidly to reduce incident triage time and mean time to resolution (MTTR) with the tools they need.
Define alerts that work for you
Trigger alerts based on performance, maximum and minimum page or element sizes, or missing content. When Uptrends detects your error conditions, escalations allow you to decide how to handle the error.
With each level of escalation, you can decide to send an alert message based on how long the error condition lasts, or by the number of errors. You can send reminders if the error continues, and you can change the alerting method or alert recipients.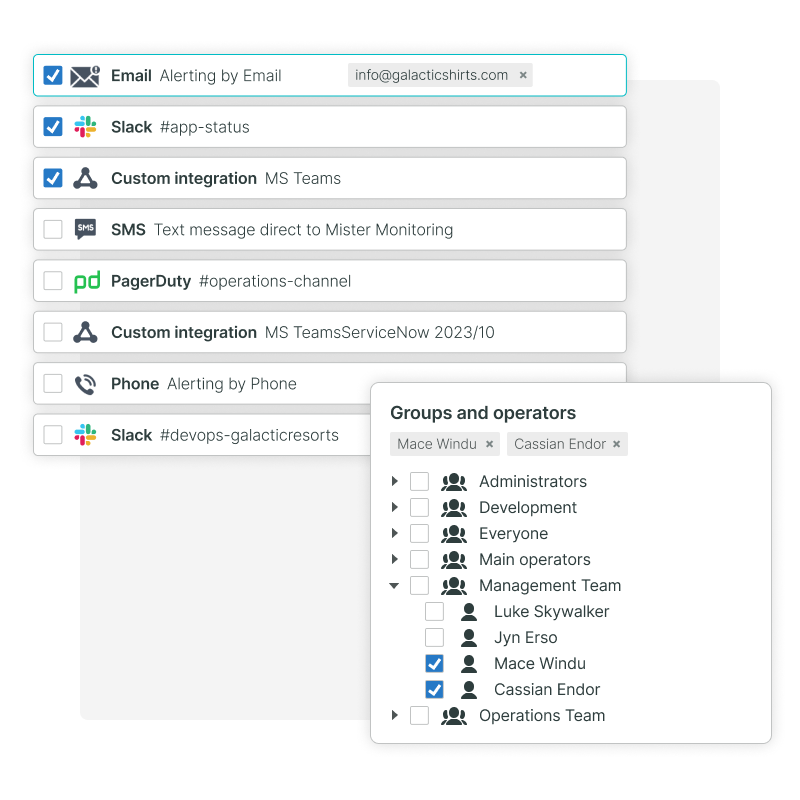 See what went wrong with error snapshots
Did you know that you get error snapshots in your check detail reports for your HTTPS availability monitors and transaction monitors? Error snapshots go a long way towards troubleshooting page related issues, and remember, you can add screenshots to all of your Web Application Monitoring steps.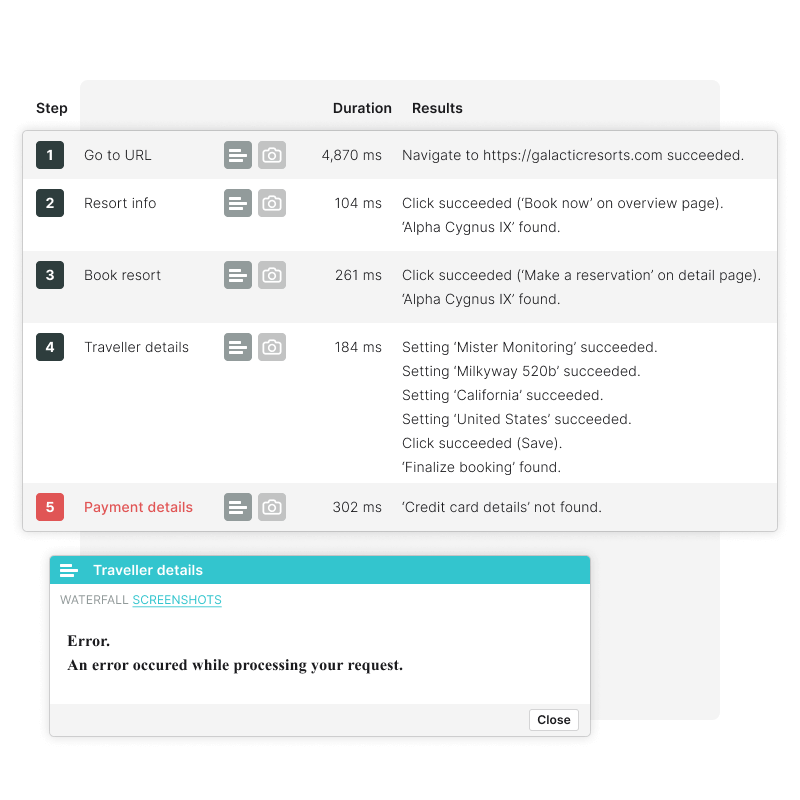 Advanced Alerting Options
Don't limit yourself to text and email alerts
Beyond the basics of text and email alerts, with Uptrends, you get the option to receive alerts through mobile apps, voice alerts, and integrations.
Push notifications
Using Uptrends' mobile apps for iOS and Android, you can receive alerts via push notifications and know what is happening with your website status at anytime from anywhere.
Voice alerts
When was the last time an email woke you in the middle of the night? Exactly! With voice/phone alerts, as long as you have an active cell signal you will know the moment problems come up.
Integrations
Uptrends has support built in for popular services like Slack, Microsoft Teams, Zapier and PagerDuty, or use custom integrations to connect to services not on our list.
Uptrends' API
With third-party integration and webhooks your notification options are almost limitless. Use the Uptrends' API to integrate alert and monitor data in your automated workflow.
No more false alerts
We think you will agree that getting false alerts or alerts during planned downtime is an unneeded annoyance. Uptrends doesn't issue an alert until a second test confirms the error, and you never get alerts during planned maintenance schedules.
You can tell Uptrends when and how often your maintenance windows occur. For unplanned downtime, you can quickly turn off alerts or stop all of your monitors until you get your site running again.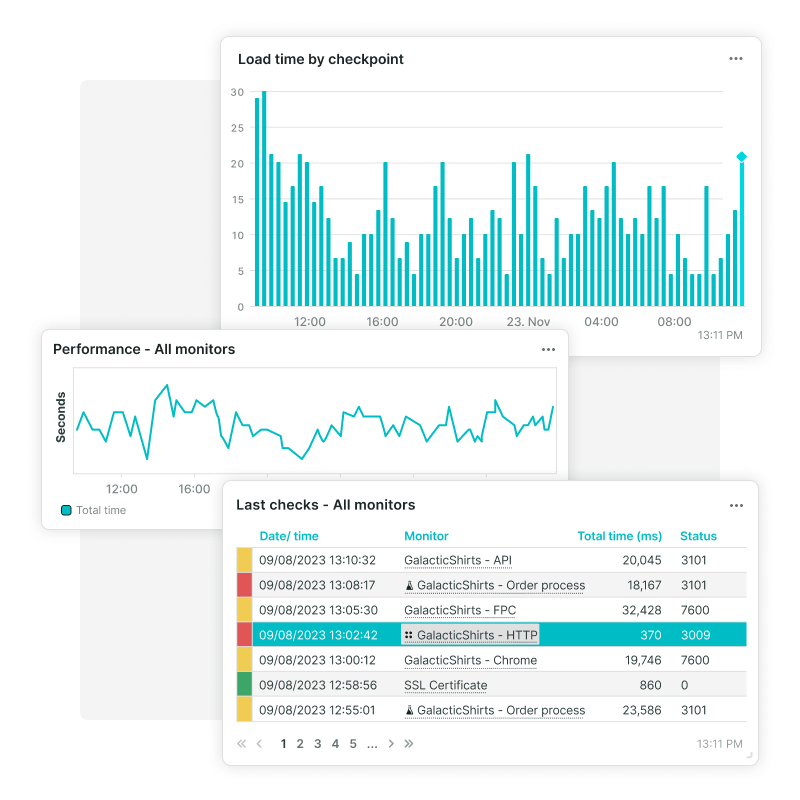 Experience the flexibility of Uptrends Alerts for free!
Try out Uptrends monitoring and our monitor alerting system for free with our 30-day free trial. No credit card required!
Try Uptrends for free