Track any numeric response data from your API
Uptrends' Multi-step API Monitoring already offers you extensive performance information and data evaluation/verification on your API responses, but you may want to track other response data Uptrends doesn't automatically capture. Now our Business and Enterprise users can capture and track any numeric API response data with Custom Metrics. Custom Metrics allow you to collect data from your defined step variables for tracking and reporting.
Within your API steps, you define a custom variable that you populate with data from the API response. You can then attach the variable's value to a custom metric that you include in your API dashboards and reports.
Combine your API data with Custom Metrics
Get the picture for your total API performance
You may want to go beyond performance data and track other numeric data returned from your API endpoints. If the API sends the data, you can track it with Multi-Step API Monitoring and Custom Metrics. You can even set up alerts based on your custom data. All you need is a Business or Enterprise account, and you can get started with Custom Metrics today.
E-commerce
If your e-commerce API passes information such as current inventory, number of orders, or the number of orders currently processing, Uptrends can track that data. Set up alerts when inventory needs replenishing or when the order processing gets too congested.
DevOps
If the API sends back system information such as the number of errors logged, concurrent users, network speed, or the current number of support calls waiting on hold, use Custom Metrics to track the actionable data and apply trend analysis.
IT Operations
You may have an API that responds with data center environment information such as temperature or humidity or system health. Using Custom Metrics, you can use conditionals to monitor the health of your systems and trigger alerts when issues come up.
How it works
Setting up Custom Metrics is a snap
You'll be up and running collecting Custom Metrics from your working Multi-Step API monitor in no time. Use this article to get to the full setup instructions.
Define your variables
Use the Response tab in your Multi-Step API monitor to define variables. Tell Uptrends what type of response to expect, the data to extract, and the variable name to give the custom variable. Add validation on the value if you would like to receive alerts based on the response.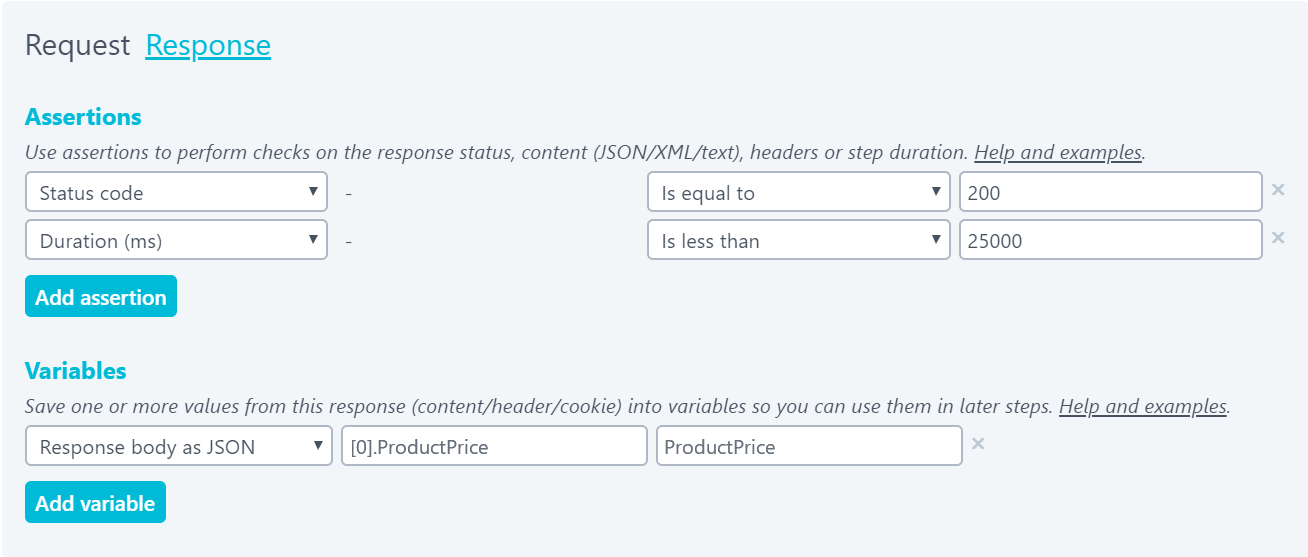 Add the variable to your Custom Metrics
Tell Uptrends what you want to call the metric in your charts and lists and which custom variable contains the data.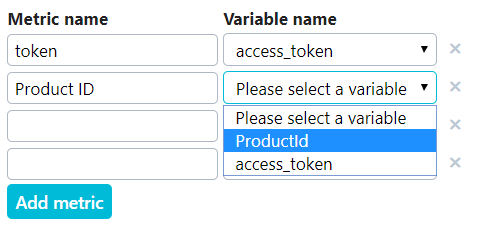 Add the new metric to your reporting
We have special dashboard tiles just for your Custom Metrics—one for charts and one for lists. Just add a custom metric tile to your custom dashboard and select the metric(s) from under the monitor in the tile settings.

Collect your data
You can set up your custom dashboards to show your API monitor performance data side-by-side with your custom metric data or put it in its own dashboard. Data freedom is what Uptrends is about!
Add alerts
Sure, you want to set up alerts for slow response times or failed validations, but you can also set up alerting based on your Custom Metrics.
Scheduled reports
Get your API's custom metric data delivered automatically to your inbox with all of your other monitoring data.
Monitor for Custom Metrics
You can set up multi- or single-step API monitoring just for your Custom Metrics if you need to for easier reporting or alerting.
Try Uptrends' API Monitoring
It doesn't take long to set up a Multi-Step API monitor, and adding Custom API Metrics is even easier. API Monitoring is part of the Uptrends Business plan, which you can try out free for 30 days. Get started today!
Try Uptrends For Free