Uptrends warns you when people can't book
Monitor mission-critical click paths such as logging in, search results, reservations, and checkouts around the clock.
Reduce abandoned reservations. Ensuring your reservation process works and performs well encourages user trust where glitchy, slow, and failing transactions drive people away.
Every trip needs a good beginning. Effortless transactions encourage good brand perception and loyalty. And once the users disembark on their journey, making sure the supporting apps, such as electronic check-in, work flawlessly keeps them coming back.
Don't let your reservation desk go unattended. Web Application Monitoring is continuously checking the availability, function, and performance of your websites.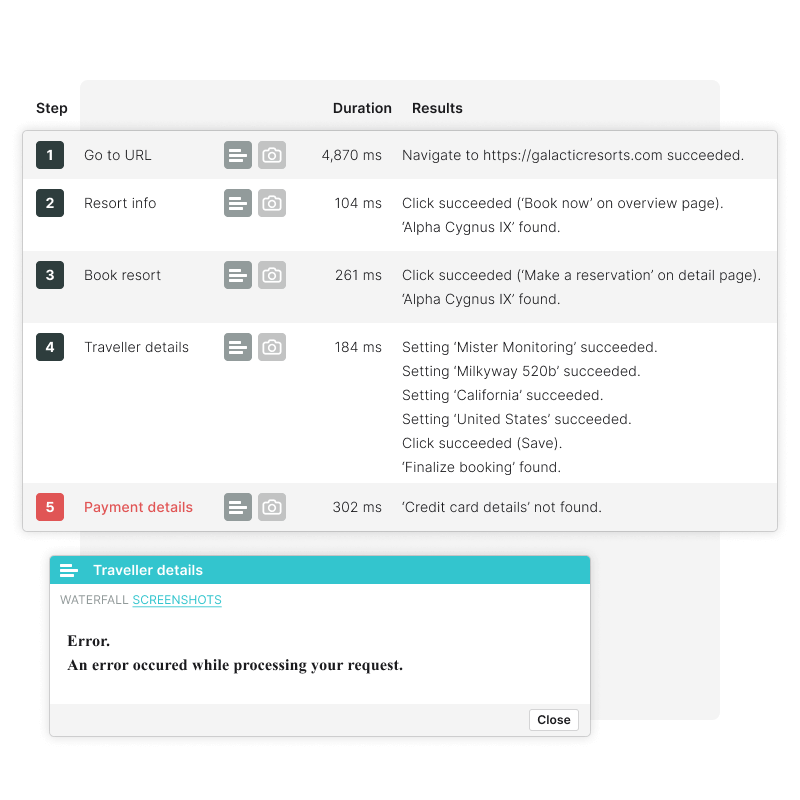 Be able to act quickly when outages arise
Reservations are often a timely decision, and outages take you out of the running.
Lower permanent abandonment rates. You lose nine percent of users permanently in an outage. How many future bookings are you losing to downtime?
Know about problems before your customers. Finding out about issues early means faster resolution and reduced downtime. Let us tell you about site problems; don't wait for your users to complain.
24-hour awareness. You will know your site's availability 24/7 with Website Availability Monitoring.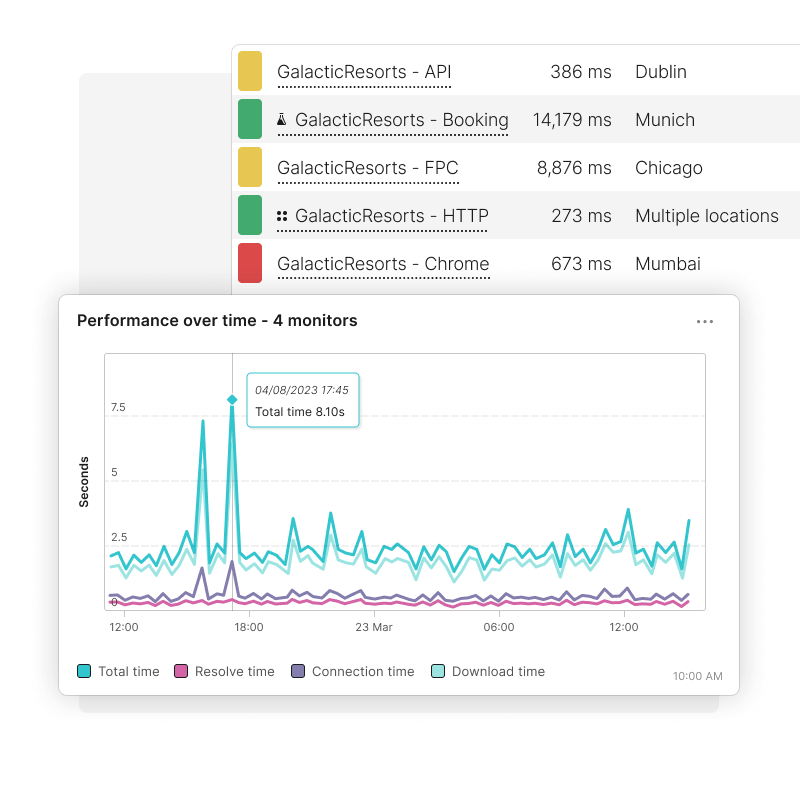 See how you can improve your users' speed perception
Five hundred milliseconds longer load time is all it takes to destroy a brand's perception. A load time of three seconds generates a 45% abandonment rate.
Optimize with waterfall reports. Waterfall reports help you dive into the nitty-gritty details of your website's performance.
Fast mobile load times makes for better SEO. Google considers mobile speed when ranking a page, get the edge up on the competition by maintaining stellar mobile speeds.
Create a performance culture. Keep the whole team focused on speed by starting with Website Performance Monitoring. Make sure your entire team is involved in watching and protecting your performance goals.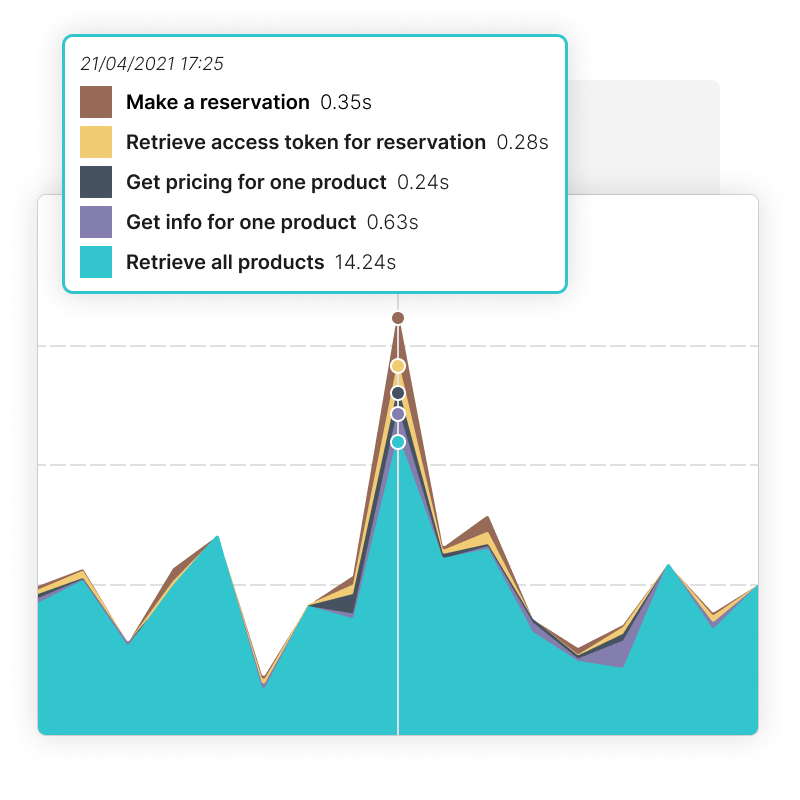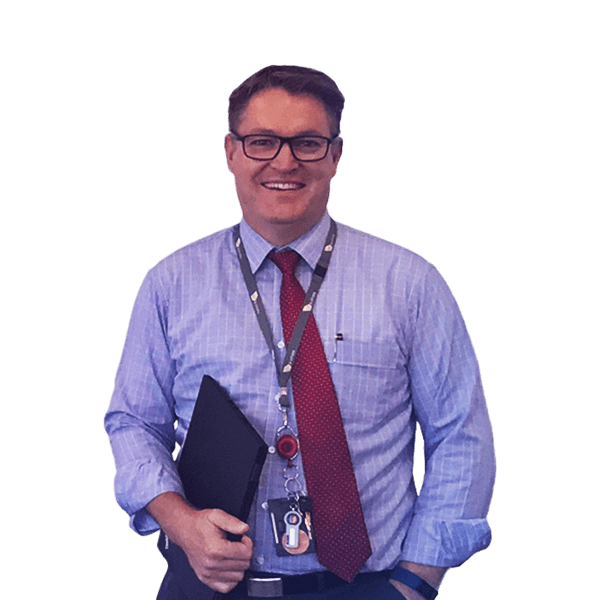 "API Monitoring helps us to get as much information as we can to diagnose underlying problems."
Steven Andrews, Leader Application Support at Virgin Australia
APIs drive your data and support your apps
APIs pull data, such as availability and rates from locations and vendors. If those API interactions fail or slow down, your search results suffer.
Get to the root cause faster. Checking your single- and multi-request APIs leads you directly to the requests that may bring down your entire system.
Multi-Step API Monitoring validates responses and allows for data reuse for multi-request API transactions.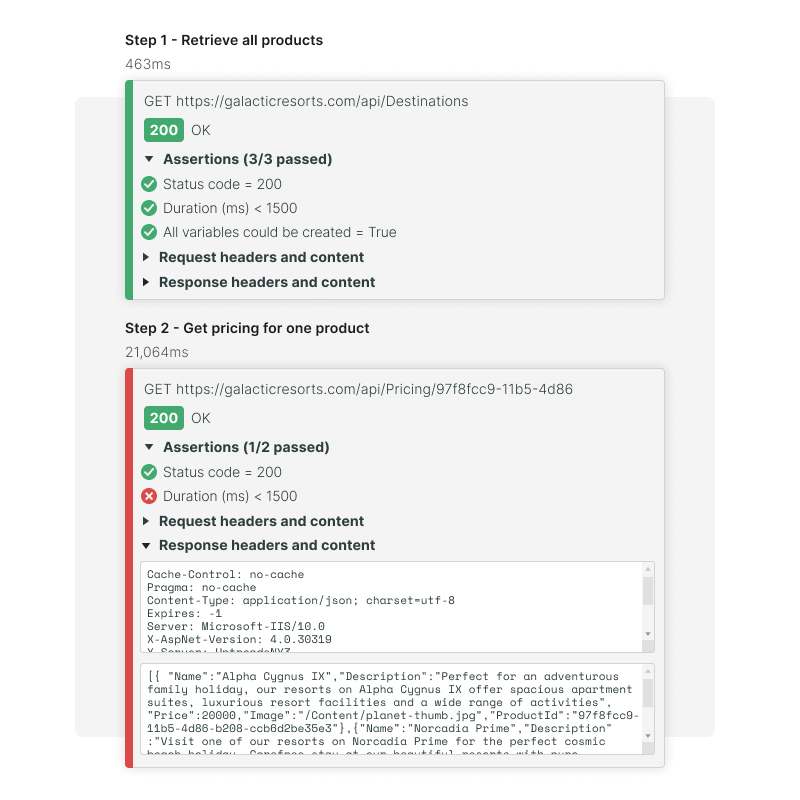 We are as serious about data security as you are
Uptrends is ISO 27001 security compliant
Uptrends achieved and maintains its ISO 27001 compliance to guarantee you that we have the processes and procedures in place to keep your information safe.
Keep your sensitive information safe in the Uptrends Vault
The Uptrends Vault restricts access to your sensitive certificates, keys, and credentials. The vault makes them accessible but not visible in your monitor settings or your reports.
GDPR compliant
GDPR compliance is a European Union requirement that affects the collection, storage, transfer, and use of personal data. Uptrends is fully compliant with the regulation.
Let Uptrends help you monitor your online assets
The complexity of the travel and hospitality industry isn't lost on us. Uptrends can help you protect your complex transactions and API calls. Start your free 30-day trial today. No commitment and no credit card required.
Try Uptrends free for 30 days