Unable to connect or is visibility into your databases murky? Give your DevOps team the ability to check on your servers connectivity and collect granular data needed to uncover underlying causes of performance issues.
Uptrends' SQL Monitoring enables you to monitor either Microsoft SQL or MySQL servers. SQL manages large amounts of data; especially data that's being written simultaneously and with many data transactions.
Check on your SQL servers 24/7
Uptrends' SQL Monitoring continuously collects uptime and performance metrics for both MySQL and Microsoft SQL servers, providing data analytics so you're able to spot any availability or load time issues around the clock from one of our 233 worldwide checkpoints.
Additionaly, if credentials are provided, our monitors will check if your database users are able to log-in and access the database.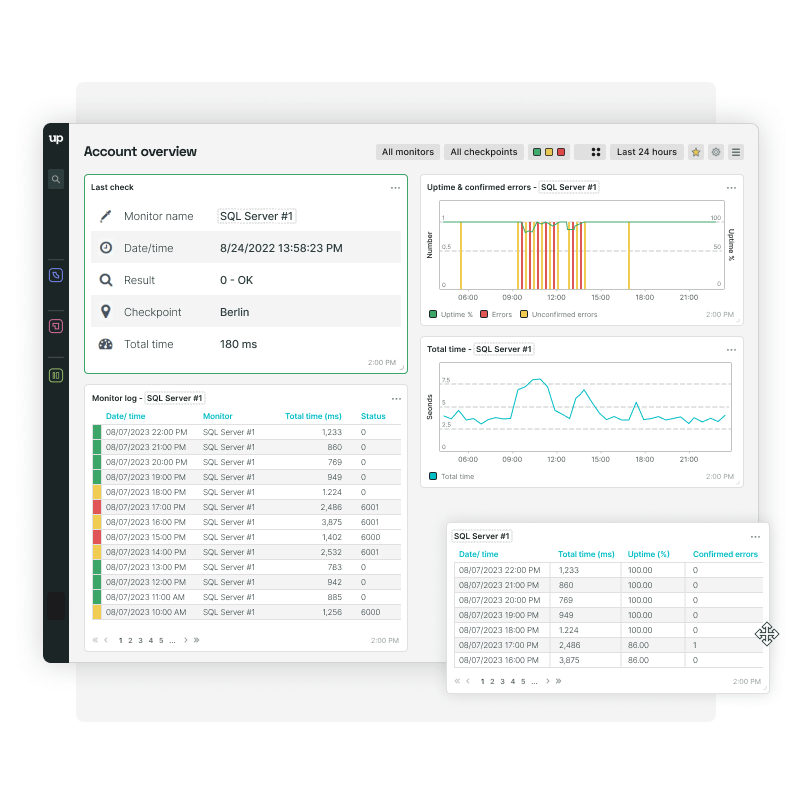 Setting up a SQL Monitor
The setup of a database server monitor is similar to setting up an HTTPS monitor type with a couple of special fields:
Select either Microsoft SQL Server or MySQL.
Provide the name of the database server, together with the domain name or IP address.
You can provide a username and password to check if databuse users can log-in.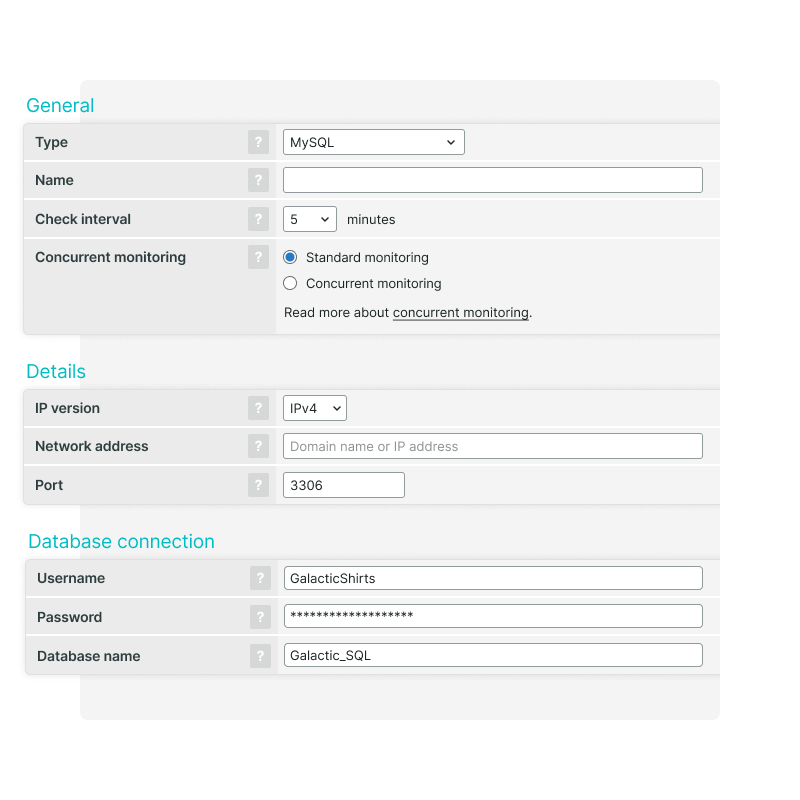 Monitor your servers' uptime and performance
Uptrends' SQL Monitoring collects and renders data in a clean uncluttered dashboard, which you can share easily with your team members. Specify performance limits to receive alerts when your SQL servers takes too long to load.
Use Concurrent Monitoring to run checks from multiple chosen checkpoints at once to get more comprehensive data and catch partial outages sooner.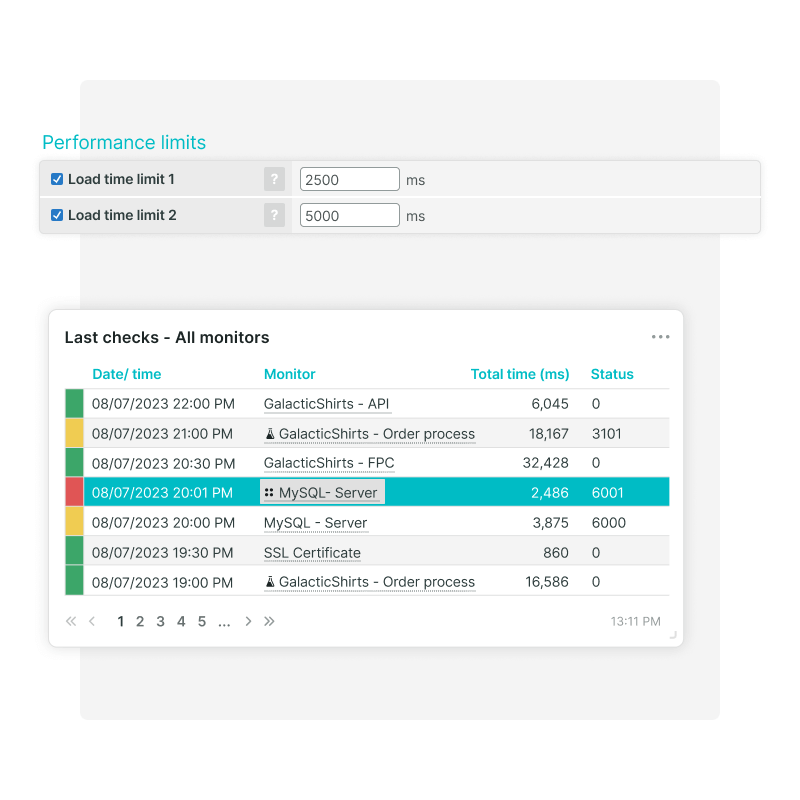 Be alerted when servers are slow or unavailable
Our checkpoints will attempt to establish a connection to the IP address and database, and if you provide login credentials, the checkpoint will attempt a successful login.
Receive alerts when connections fail or load times exceed with Uptrends' advanced alerting or use Integrations with popular tools such as Slack and Microsoft Teams.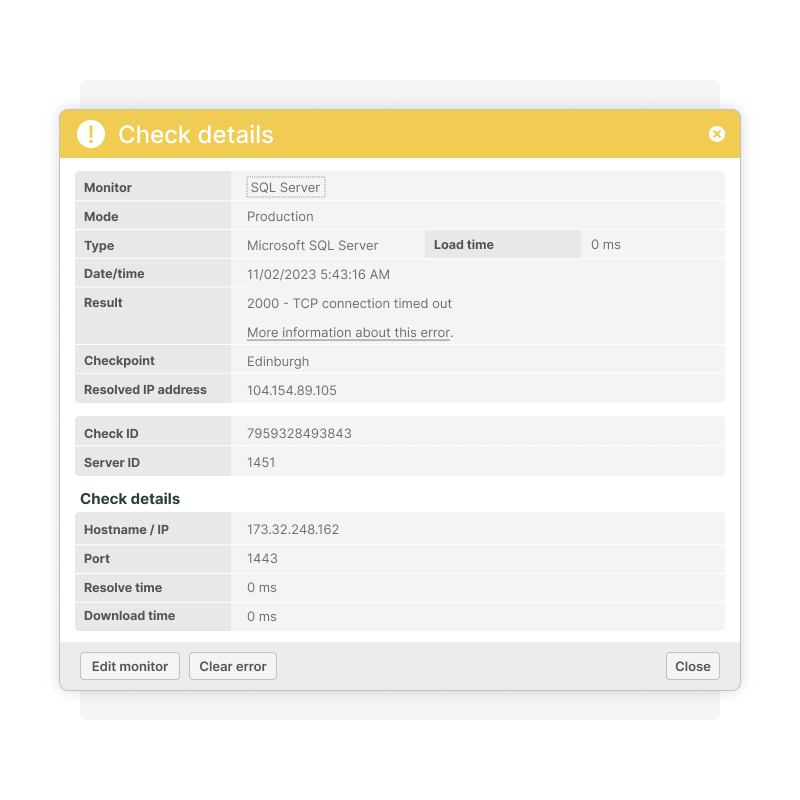 Try SQL Monitoring now 30 days for free!
Uptrends' SQL Server Monitoring provides access to mission-critical information that your DevOps team can use to analyze your SQL server database availability and performance.
Get started — it's free