Uptrends works by adding so called monitors to your account. Monitors check your website, server or service at a specified interval. This page displays all monitor types categorized by solution, so you know which monitor to use for your situation!
Website uptime monitoring
High availability is crucial to your brand's reputation. Uptrends' Synthetic Monitoring and SLA (Service Level Agreement) tracking help you make sure your website is accessible around the clock.
Monitor types
HTTPS: HTTPS monitors conduct secure HTTPS requests. The HTTPS monitor also checks the SSL/TLS cetificate.
HTTP: Check the availability of individual HTTP requests with an HTTP monitor.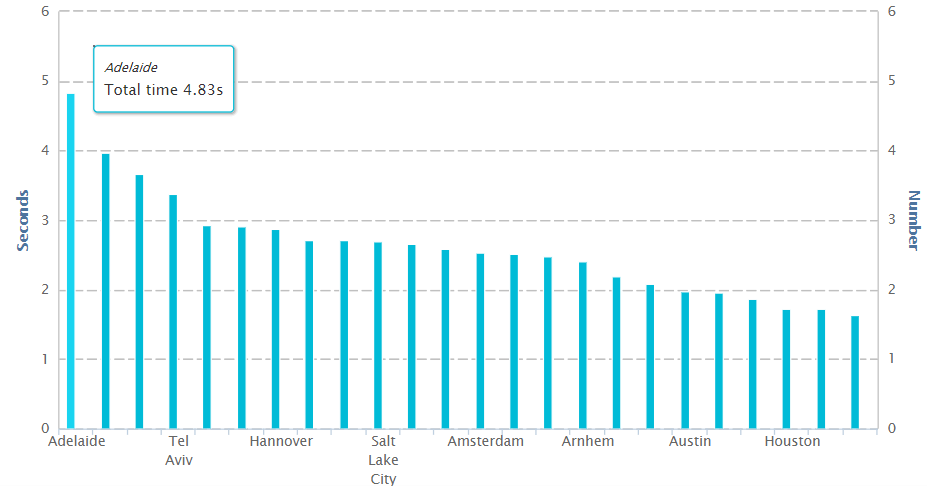 Web Performance Monitoring
Performance is key to protecting brand perception, SEO, and user engagement. Uptrends offers Web Performance Monitoring using real Chrome, Firefox, Edge or PhantomJS browsers.
Monitor types
Full Page Check: The FPC loads a webpage using a real browser, tracks the performance of every page element, and loads their performance data into a detail rich waterfall chart. You can even simulate mobile devices.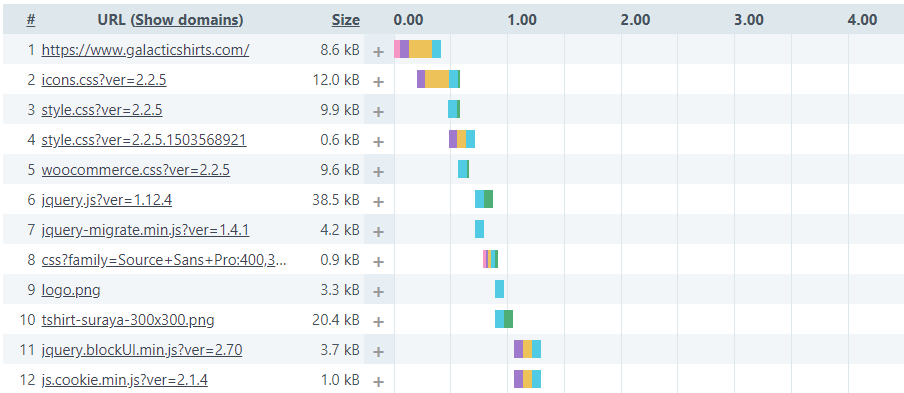 Web Application Monitoring
Web Application Monitoring or transaction monitoring complete user tasks on your website such as logging in, web forms, search and shopping cart interactions. Test your happy paths to make sure everything is working.
Monitor types
Transaction: Use our Transaction Recorder to click through your user paths, upload the recordings, test, and refine your scripts, or let our scripting experts revise and tests the scripts for you!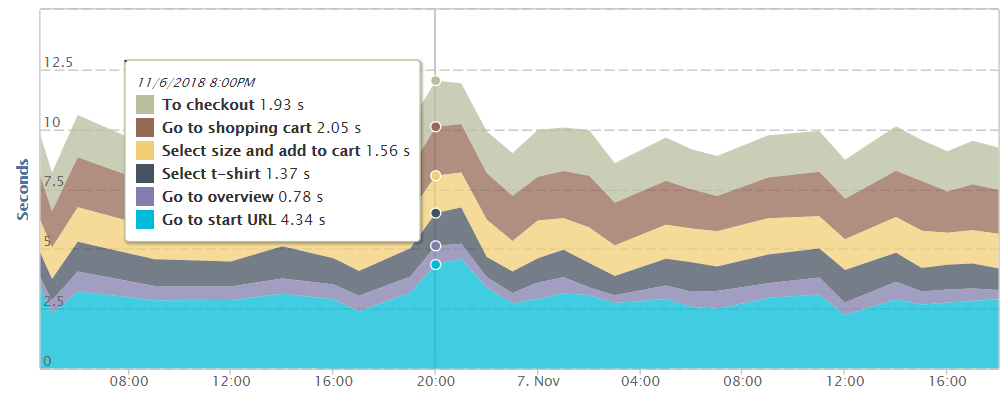 API Monitoring
You can track SLAs with our Webservice monitors or test complete API interactions with our Multi-step API Monitoring.
Monitor types
Multi-step API: Test full API interactions with Multi-Step API monitoring. Test your own API or third-party APIs you rely on. You can test single responses to complicated interactions requiring multiple calls and data reuse.
Webservice HTTP(S): Uptrends Webservice HTTP and HTTPS monitors check a single API response verifying availability and basic function. Use Uptrends SLA tracking to monitor and prove SLA compliance.

Real User Monitoring
Real User Monitoring (RUM) collects performance data from your website's actual visitors. Detailed metrics give you performance differences across browsers, devices, countries, and operating systems.
Monitor types
RUM website: Add a RUM website to your account, add the script to your website, and you're good to go. The monitoring script records every session and pushes the aggregated data to your website monitoring account.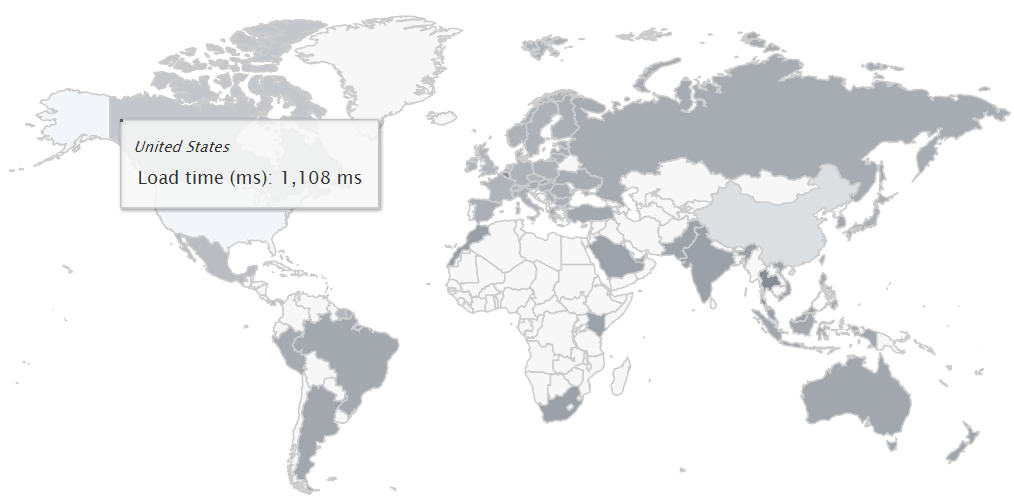 SSL Certificate Monitoring
SSL/TSL Certificates are such an easy thing to implement and an easy thing to forget about. Protect yours with SSL Certificate Monitoring.
Monitor types
SSL certificate: An SSL certificate monitor reminds you about impending expirations and verifies the certificate.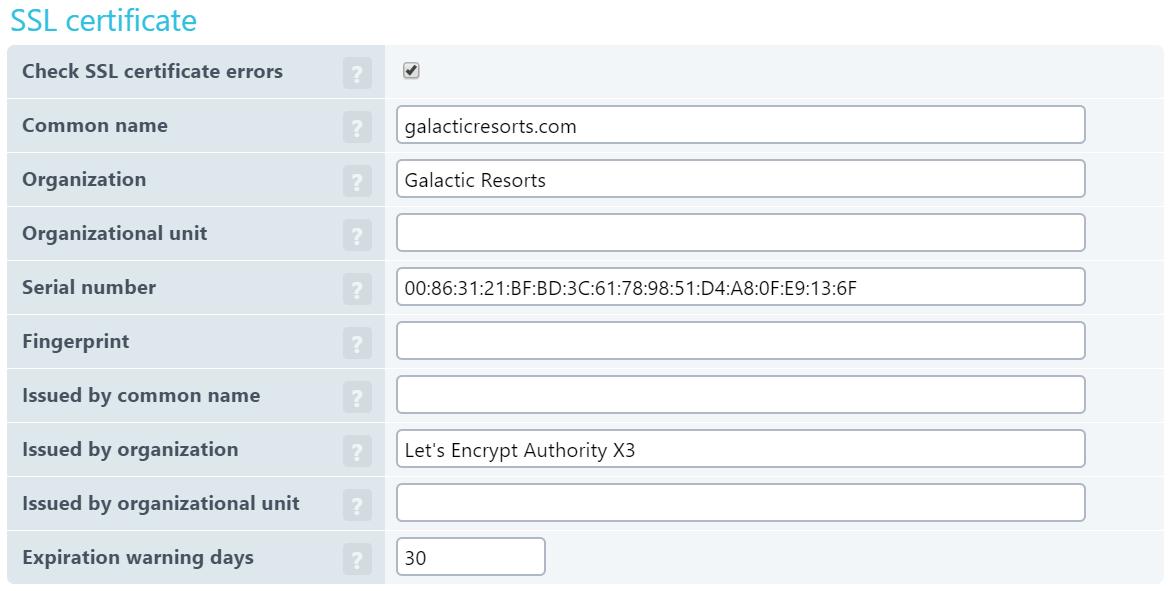 FTP and SFTP Monitoring
With SFTP Monitoring, you can check the (S)FTP protocol to ensure all information coming into or out of your SFTP server is secure 24/7.
Monitor types
SFTP: The SFTP monitor checks to make sure your server is up and running. You can also verify that a file does or doesn't exist on the server and test for a successful download.
FTP: The FTP monitor has the same capabilities as the SFTP monitor, it's just the non-secure variant.

Email Server Monitoring
Keeping communications flowing is an important part of any monitoring plan. Uptrends offers you three options for email monitoring.
Monitor types
IMAP: With the growth of mobile, IMAP has become the preferred connection method. Uptrends IMAP Monitoring checks the connection to your IMAP servers with or without authentication to make sure that your server is available for receiving and sending email.
SMTP: SMTP email monitors check the availability of an SMTP email server by making a connection for sending email (it doesn't actually send an email) to ensure connectivity with optional authentication.
POP3: To make sure that clients can connect to your POP3 email servers for reading email (no email is retrieved), the POP3 email monitor checks to make sure the connection is available with or without authentication.

Database Server Monitoring
Not much works when your dataases go down. We have two different database monitors to help keep your data flowing.
Monitor types
Microsoft SQL Server: Microsoft SQL Server monitoring ensures that your database is accessible, and with login credentials and a database name, MS SQL Server Monitoring can ensure that clients can reach specific databases.
MySQL: A MySQL monitor verifies that your MySQL database is available. Using a specific database name and credentials, the MySQL monitor can verify a certain database remains available.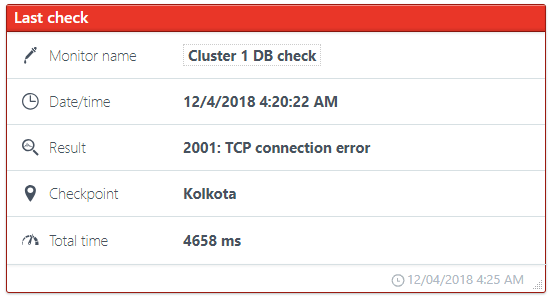 Network Monitoring
Your web facing servers need to be available and responding 24/7, so we have two monitoring choices.
Monitor types
Ping: The Ping monitor uses ICMP (Internet Control Message Protocol) to send an echo request to test connectivity and network latency.
Connect: The Connect monitor checks either domain name or IP address (IPv4 or IPv6) to check connectivity.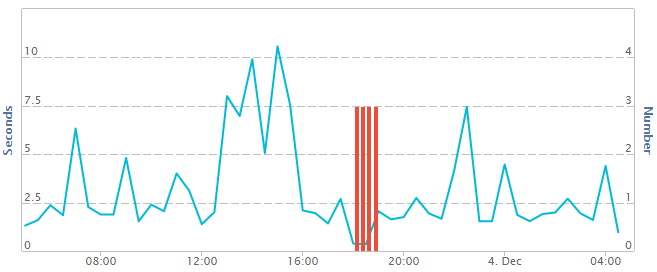 DNS Monitoring
DNS Monitoring helps the DNS entry(s) that are crucial to your business to keep traffic and communications flowing.
Monitor types
DNS: The DNS monitor can check your DNS records (A, AAAA, CNAME, MX, SOA, TXT, SRV, and NS) to make sure they don't change and point traffic to where it is supposed to go. You'll know immediately if your entry changes.

Get started today
Our free 30-day trial is the perfect way to test all monitor types. Your trial expires automatically, so there's no commitment at all!
Try Uptrends For Free