Details
How does the switch affect Gomez monitoring users?
The shuttering of Gomez means the end of location-based monitoring at Dynatrace. Dynatrace is sunsetting Gomez, and moving the Gomez users to a more expensive system that monitors from the cloud instead.
Monitors shouldn't run in the cloud
Dynatrace uses cloud-based locations to conduct its monitoring instead of the user-based testing locations used by Gomez. Testing from the cloud doesn't accurately reflect real-world user experiences. Your users experience your website using congested networks on a variety of devices new and old. Cloud-based monitoring uses cloud-based supercomputers that can only approximate real-world speed.
Monitoring from the cloud doesn't catch network latency
Every user's connection varies worldwide due to differences in connection type, local infrastructure, and the device used. Testing cloud-based sites and services from the cloud give you cloud-to-cloud measurements that ignore a lot of the world's lower bandwidth routes and networks.
Cloud-based monitoring misses many geographic locations
Cloud providers build their data centers in heavily populated areas. That means many parts of the world gets ignored; e.g., Google's cloud service doesn't have any African, Middle Eastern, or Northern Asia regions. Also, Google only has one region in both South America and Australia. Although probably plenty for a cloud provider, it isn't localized enough for granular monitoring strategies.
RUM can't cover the monitoring holes
When it comes to uptime, synthetic cloud-based monitoring may not capture localized outages because of the distribution of cloud datacenters. You can't rely on Real User Monitoring to fill the holes because RUM doesn't track uptime. If a user can't access the site, no data is collected or reported; you learn about localized outages when users start to complain.
The alternative
Look to Uptrends for a full-featured Gomez monitoring alternative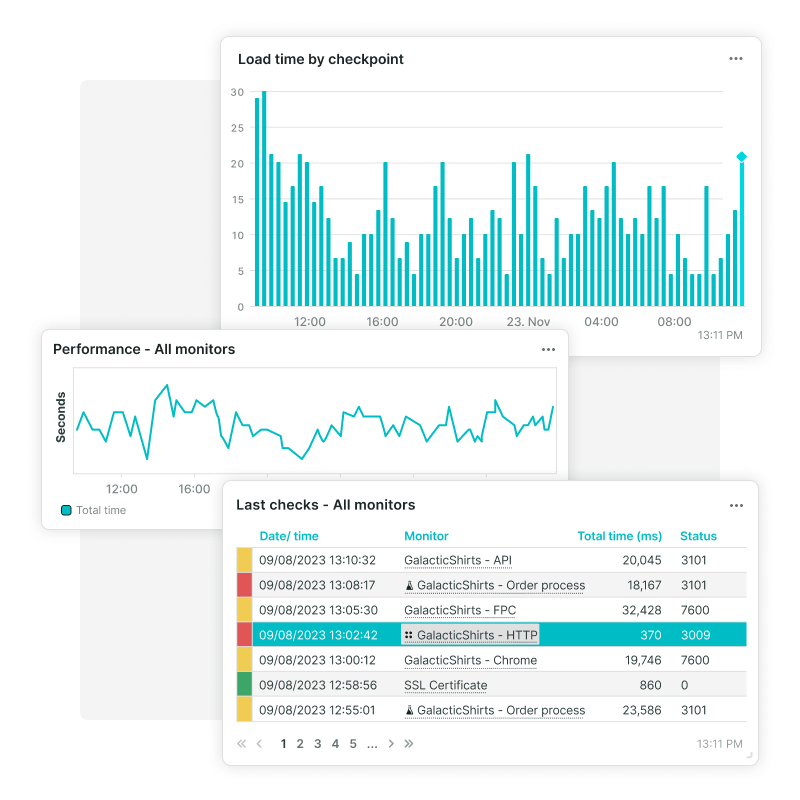 Uptime, performance, and function monitoring
You'll find the tools you need to reliably monitor your websites, web services, servers, and APIs for performance, proper function, and uptime at Uptrends.
Hundreds of localized checkpoints
Uptrends has 233 testing locations worldwide. Test your web assets from your user's locations — not the cloud like Gomez monitoring's replacement, Dynatrace.
Monitoring you can trust
Reliable synthetic and Real User Monitoring from Uptrends gives you a complete DEM tool you can trust to keep you informed with a single integrated interface and dynamic reporting.
Complete synthetic monitoring
Uptrends has your synthetic monitoring tools
Real browser monitoring using Chrome, Firefox & Edge
You need to know how your website performs on all browsers to ensure that all of your users have a great experience. With real Multi-Browser Monitoring from Uptrends, you get the full performance picture. Analyze your site's performance element-by-element in current versions of Chrome, Firefox, or Edge. Test both mobile and desktop.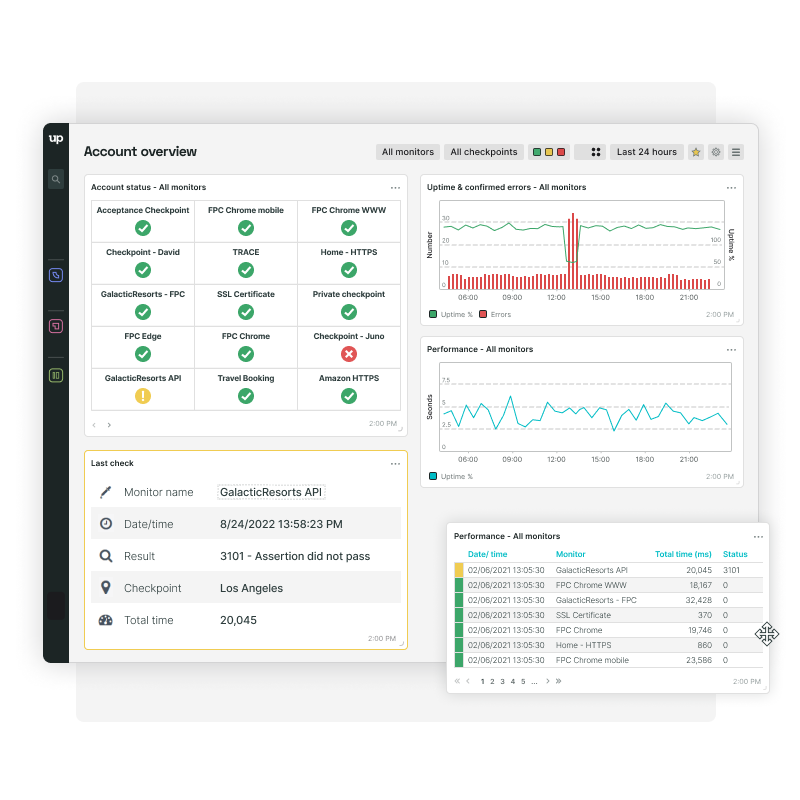 Service
The switch from Gomez to Uptrends is on
Monitoring consultants to help you switch
As you switch from Gomez, you can get help with your options from one of our highly-trained monitoring consultants. Our consultants are here to help you figure out the monitoring options and the plan that works best for you. Set up your free one-on-one demo today with your monitoring consultant!
Technical help from our support heroes
With our top-notch support team, feel confident in your transition from Gomez. Our support heroes can help with your more technical monitoring questions, test and write transaction scripts if you need them to, and address any other concerns you might have. Our support team is ready to help; open a support ticket, and help is on its way.
Lots of help documentation
Use the Basics to get you up and running quickly with monitoring basics. If you need more detailed help, flip over to our Knowledge Base to get the in-depth info that gets you on your way to a better monitoring experience.
Features
Features? We've got them
Not only do we have email and SMS alerts, but our alert escalations let you use direct integrations with Slack, PagerDuty, StatusHub, ServiceNow, and VictorOps. Also, we have automated voice/phone alerts to get your teams attention when others means of communication can't. However, don't forget, we also have webhooks so that you can integrate Uptrends with the tools your team uses most.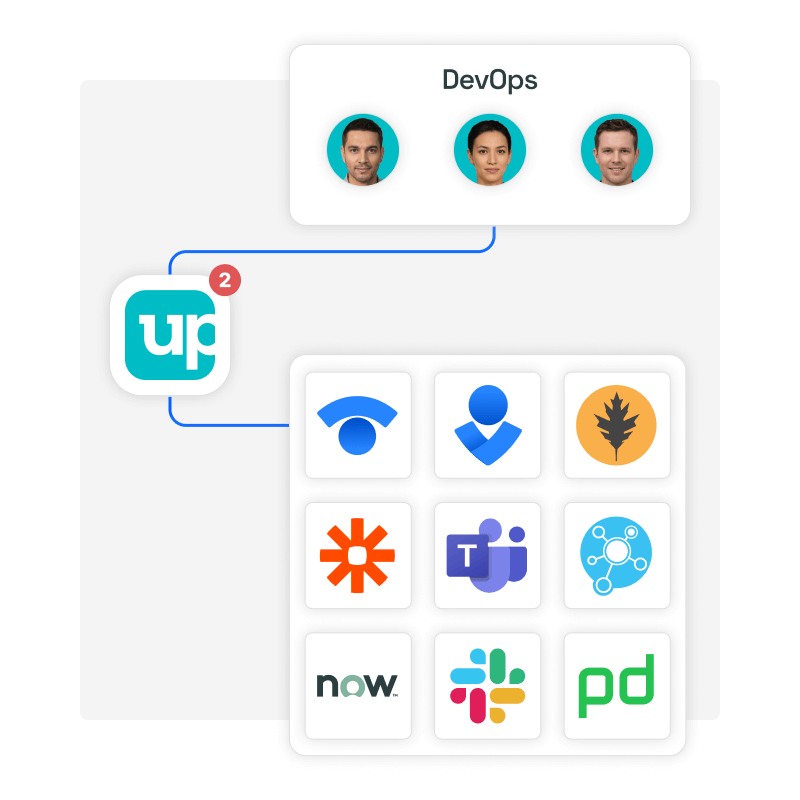 Current Real Browser Monitoring
With web performance and web application monitoring, you need current browsers for testing. Our DevOps department keeps our Chrome, Firefox, and Edge browsers current on all of our checkpoints. You can trust that with Uptrends multi-browser monitoring, you're always testing with a fresh up-to-date browser.
Huge checkpoint network
You need a vast network of checkpoints so that you can test from locations as close to your actual users as you can get. Uptrends has checkpoints at 233 worldwide locations. We aren't stopping there; we keep adding more locations all of the time. We also have Private Checkpoints so you can test websites, servers, and APIs from inside your network.
Gomez monitoring's time is short, switch to Uptrends!
Try Uptrends before they sunset Gomez monitoring, 30 days for free. We've got the monitoring experts you need to make a difference for your users and your bottom line. You and Uptrends together are unstoppable.
Try Uptrends free for 30 days