Comparison
Get everything you enjoyed at Monitis plus more
Monitis has proven to be a worthy competitor over the years, and we are sad to see them end the product line. Soon, TeamViewer will shut down Monitis for good and cancel your account. You can subscribe to Monitis' replacement, or switch to an established monitoring solution with Uptrends.
Transaction Monitoring
From scripting to monitoring: transactions made easy
The Transaction Recorder allows you to fill out forms, interact with site functionality, and use any other site functions. Record and monitor your transactions in a real Chrome browser, just the way your users experience your site.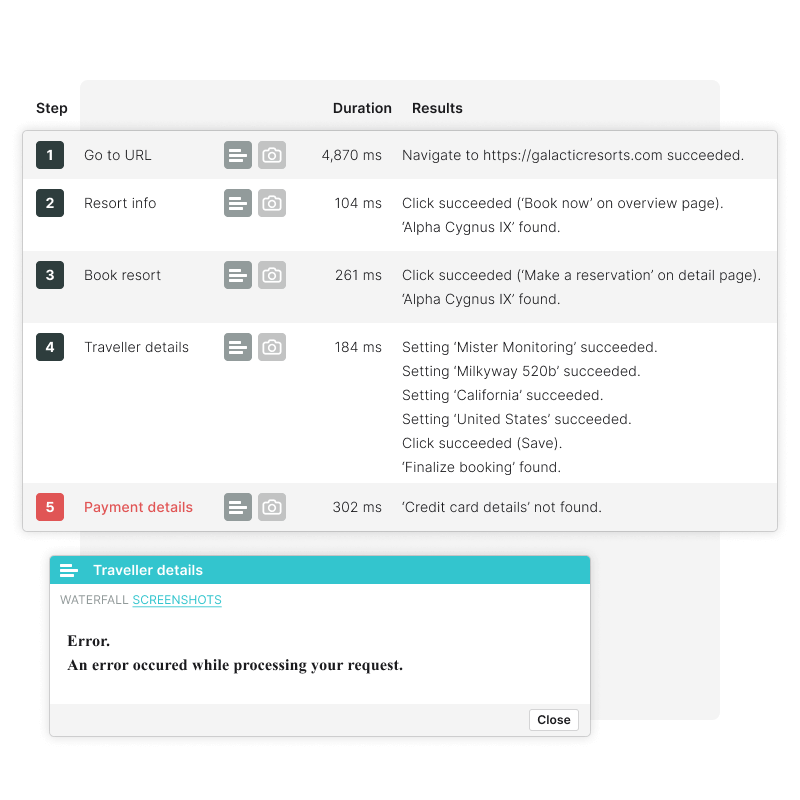 Scripts your way
With Uptrends, if you want to write your scripts yourself, go for it. Otherwise, you can use our handy Transaction Recorder and a Chrome browser to capture your transaction or use our handy step editor to build your transaction from scratch. Need help along the way? Our support team can give you a hand.
Automation support
The script is yours, so you can save it to your versioning application. To further support your CI/CD processes, use the extensive Uptrends API to automate your script and monitor updates. We expand our API's functionality all of the time, and you will find we have lots of API support for transactions already set up.
Waterfalls and screenshots
Screenshots and waterfall reports can give you so much more information than a standard report or chart, especially when looking for the root cause. You always have access to waterfalls and screenshots while you manually test your scripts, and you can optionally add them to every transaction monitor you have in production.
Real browser checks using Chrome, Firefox, Edge, or PhantomJS
Your visitors use lots of different browsers, and so knowing how your content performs on them is important. Monitis supported Chrome and Firefox, but nothing else. Uptrends gives you four options to access your content, so your web performance monitoring reflects your actual user's experiences. And just like your users, we keep our browsers current.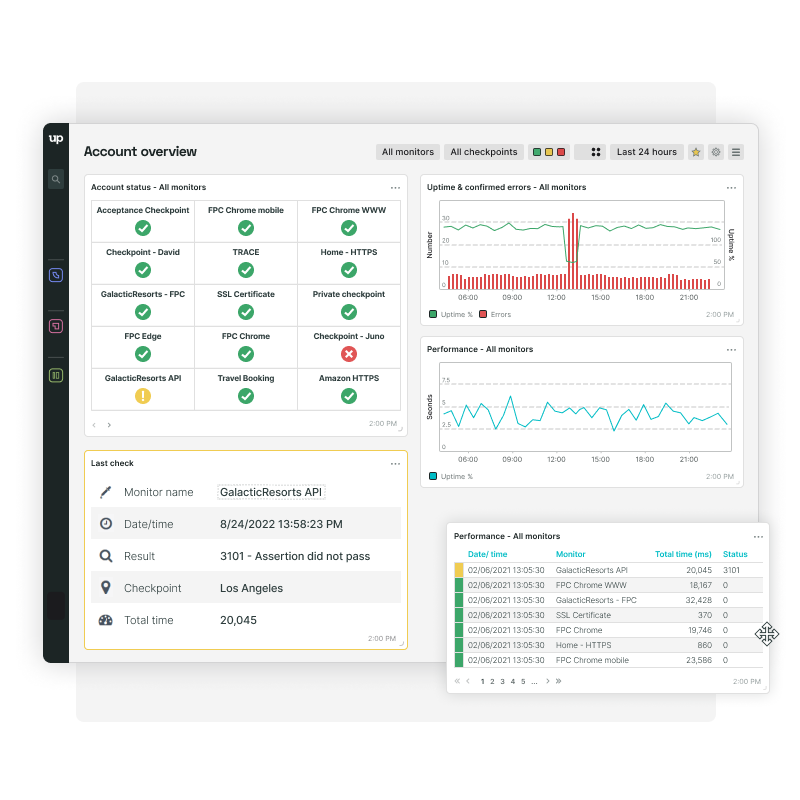 Reporting
Taking reporting to the next level
View your website performance monitoring details right out of the box with our series of unique dashboard reports. These dashboards compile the most commonly accessed reports for advanced root-cause analysis, so you spend less time troubleshooting errors and problems.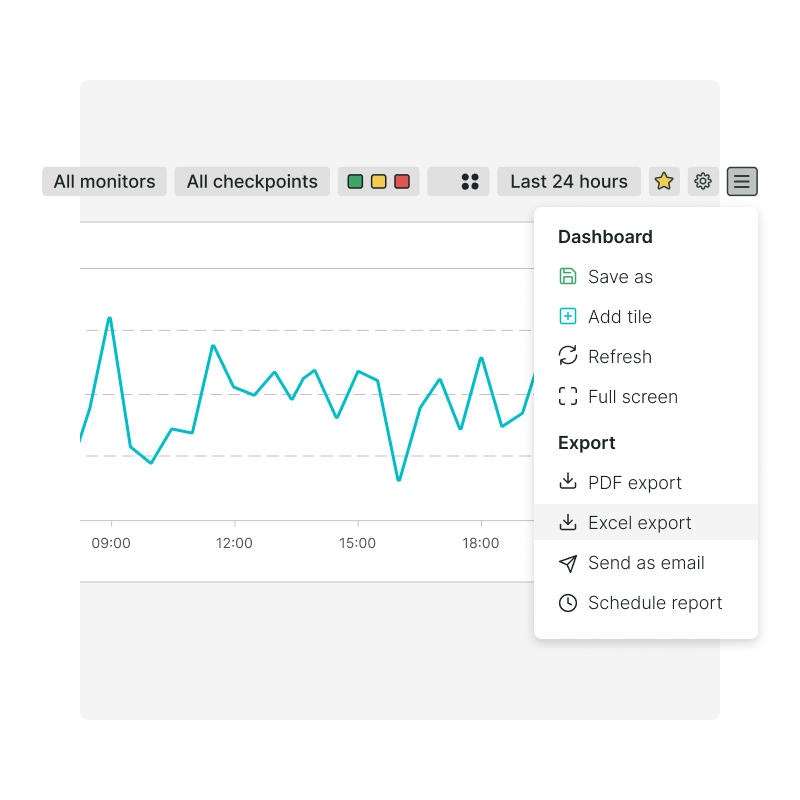 Error screenshots
When your page errors, a screenshot goes a long way towards faster root-cause analysis. Uptrends includes a screenshot when possible when your Full Page Check errors, and you can always add additional screenshots to your Web Application Monitors.
Custom Dashboards
Uptrends lets you choose what data you want to see, and gives you interactive charts or tabular data. Mix it up! Put RUM, performance, uptime, and transaction data into custom dashboards, and turn those into scheduled reports.
Custom API metrics
If your API returns numeric data you would like to track, Uptrends Multi-Step API Monitoring can capture the values. You can add them to your custom dashboards in graphical or tabular form right alongside your other data.
Public Status pages
Go transparent and direct your users to your brandable Public Status Page. Let users check the current status of your website in the event of an outage. Choose your colors, and add your logo to make it yours. Link to your page or embed it elsewhere.
Advanced Availability Monitoring
Go beyond the basics
Knowing that your DNS, SSL Certificates, or FTP are unavailable is great, but knowing where they are down is even greater. With over 233 global monitoring checkpoints watching over your services 24/7, it is no surprise that web professionals choose Uptrends.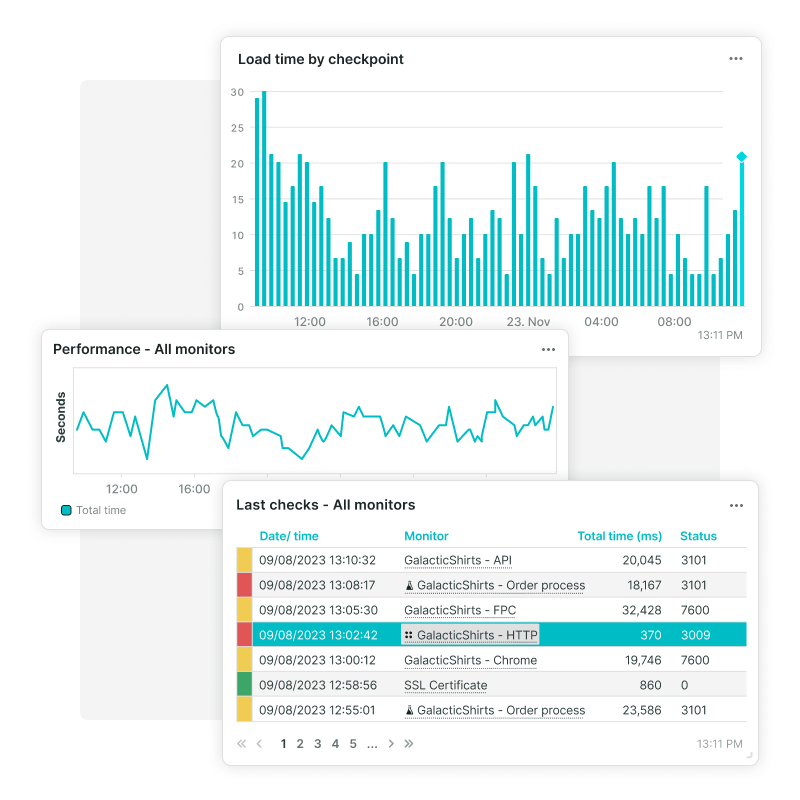 Check supporting servers
Your business relies on more than web servers. Our advanced availability monitor types can check availability on the servers your site and business rely on every day. Check SMTP, POP, and IMAP email servers; SQL Server or MySQL databases; FTP or SFTP servers; and any other Internet-facing server.
SSL certificates and DNS
Your SSL certificates and DNS records are fundamental. If either of these external services fails, you're site or service is down. Uptrends can check for errors and things like fingerprints, serial numbers, and expiration dates. You capture both localized and global outages using Uptrends' checkpoint network.
Bring Uptrends inside
Using Private Checkpoints or Uptrends Infra, you can bring Uptrends monitoring behind your firewall. Check your network infrastructure with Infra and monitor internal web applications and preproduction environments with the same monitors that check your web-facing products.
Advanced alerting
Alerting options you're used to, and more
You have many different methods to get alerts to your team. Depending on the error and your staff's needs, you can choose one or multiple communication methods:
Get an email.
Receive an SMS/text message.
Get an automated phone call.
Get push notifications through the Uptrends mobile apps for IOS and Android.
Integrate Slack, PagerDuty, StatusHub, ServiceNow, VictorOps, Microsoft Teams, Zapier, Opsgenie, Statuspage, or use a custom webhook.
Use the Uptrends API to interface with your own systems.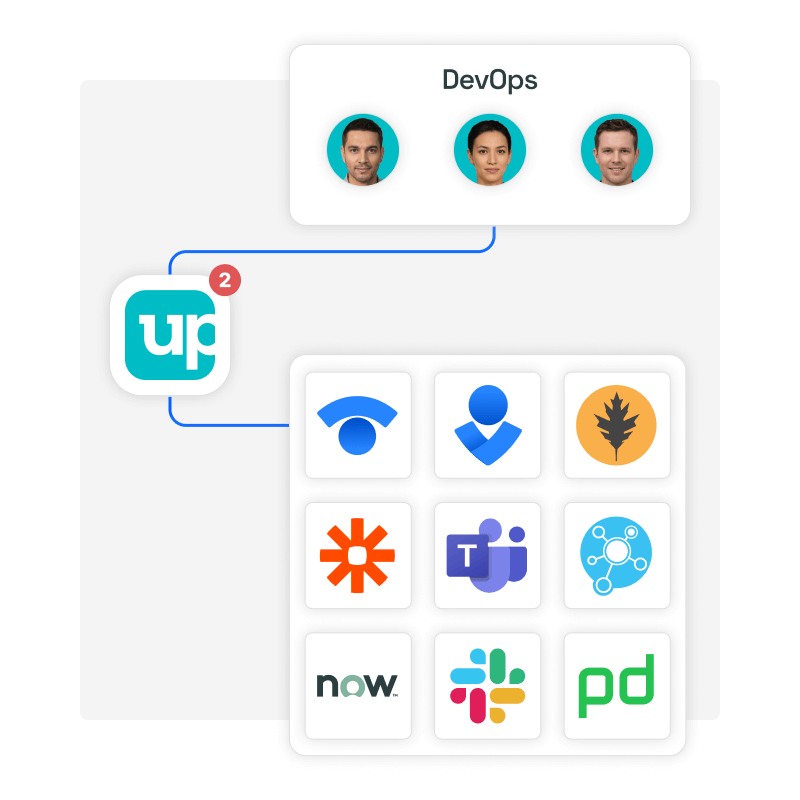 Integrations
You can use webhooks to connect to virtually any third-party event management or communication tool such as Opsgenie, but it is even better when the tools you use are already setup. We have integrations already set up with Slack, PagerDuty, Statushub, VictorOps, and ServiceNow. Add your favorite tools with just a few clicks.
No lost SMS credits
If you purchase SMS or phone/voice credits, you keep them. Monitis doesn't roll your SMS credits over from month to month, and they charge more for them. At Uptrends, your credits are yours until you use them no matter what. Use them this month, next month, next year. We'll keep carrying them over until they're gone.
Duty schedules
Nobody wants to get notifications when it is someone else's turn to respond. Uptrends lets you set up duty schedules so that off-duty operators don't get hassled by unwanted interruptions. When something goes wrong with your site or service, Uptrends checks your duty schedules before sending website, API, and server alerts.
We can support you in four languages
We have customer support teams in the US, France, Germany, and The Netherlands. If you need your support documentation or would like to speak to a native speaker in English, Dutch, German, or French, we have the resources you need. Our support team is always a support ticket away. If you want a live demo, you can set one up with a monitoring consultant for your region.
Why not start over with an established monitoring solution?
Your Monitis account is closing, and you have to sign up for a new monitoring service. Why not sign up for a stable product with a provider focused on monitoring? Uptrends is privately owned, and monitoring is all we do. We have a single focus; our goals and efforts always go toward creating a dependable, easy-to-use monitoring product. Go ahead; take advantage of our no-commitment 30-day free trial.
Try Uptrends free for 30 days