Dashboard
All of your data right at your fingertips
The data you gather is displayed in multiple report tiles in our dashboard, designed to help you quickly visualize and identify availability and performance trends from a single overview. Your team can easily view your current status, availability, errors, performance and much more.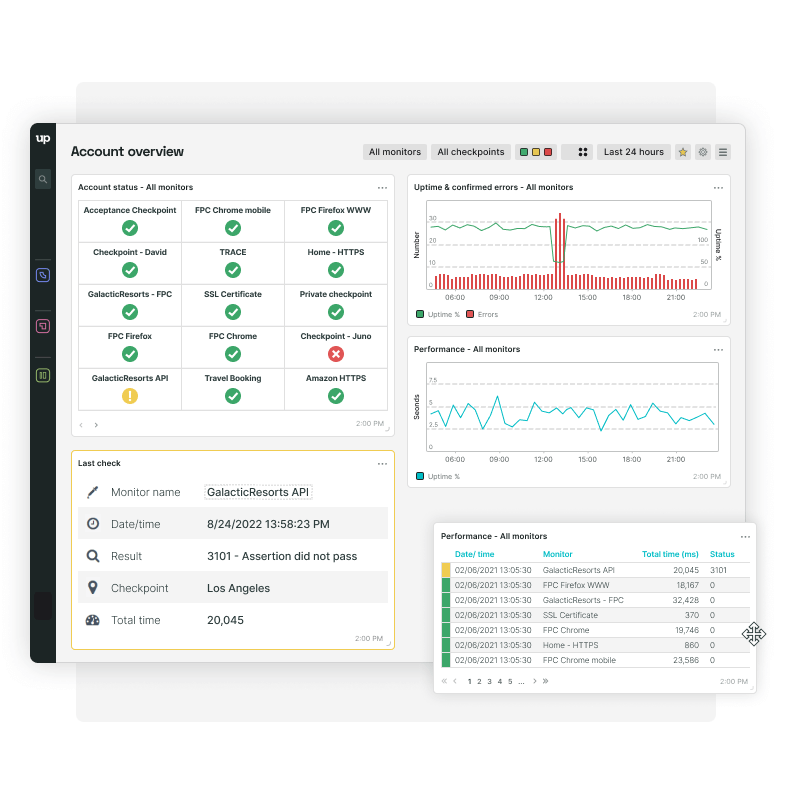 Custom dashboards
Want more than our standard dashboards have to offer? With our flexible, easy-to-use drag-and-drop interface, you can effortlessly customize your dashboard with the metrics you need, positioned, and sized the way you like.
Interactive Charts
Zoom in on the fine details, or select specific date and times to get a closer look at your data and spot trends in your website uptime and performance. Set up your custom report tiles however you prefer in your dashboard.
Fluent in many protocols
Uptrends supports a variety of protocol technologies for all of your website monitoring and server monitoring needs, including HTTP/HTTPS, SMTP, POP3, IMAP, Ping, DNS, FTP, Connect, SQL, and MySQL.
Data metrics
Capture the metrics you need
Discovering new insights is much easier when you control your data displays. We build our dashboards so that you can quickly filter, shape, and display your website monitoring data your way.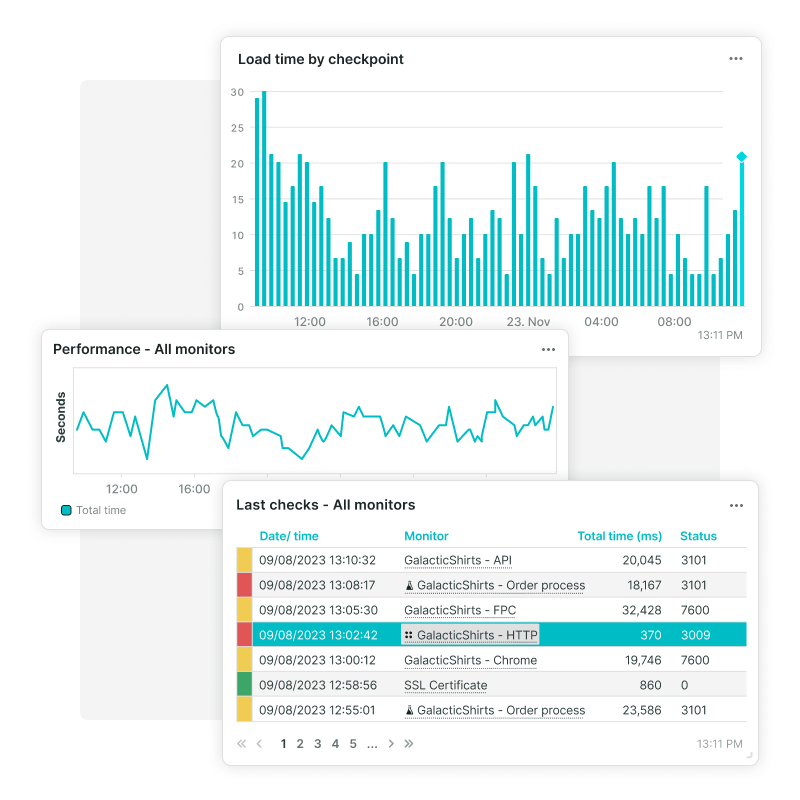 Error snapshots
Get visual confirmation of downtime caused by errors, with Uptrends' error snapshots. Capture screenshots when your Web Application or HTTPS website monitor encounters page errors, such as failed content checks.
Measure minute details
Threats to your services don't take a break. With Uptrends 1-minute monitoring, you can make sure that you capture every minute detail about your website, server, and web service performance and uptime.
Custom Metrics
Our Business and Enterprise users can capture and track any numeric API response data with Custom Metrics. This allows you to collect custom data from your defined step variables for tracking and reporting.
Checkpoints
Monitor from 231 checkpoints worldwide
Our global monitoring network of 231 checkpoints can pinpoint where your users are experiencing issues. With one of the largest checkpoint networks in the industry, determining the origin of website downtime and performance problems just got easier.
View checkpoints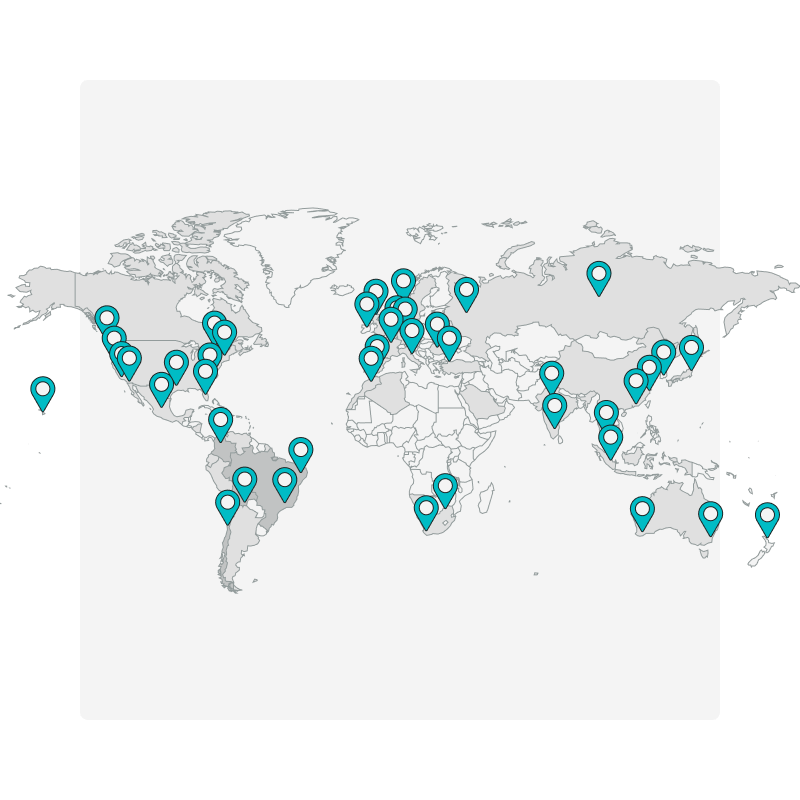 Private Checkpoints
You can now have a personal Private Checkpoint running behind your firewall. Monitor your intranet, web applications, APIs, and servers your team depends on every day. Use the same availability, performance, and transaction monitors you use outside the firewall behind the firewall.
Concurrent Monitoring
With Concurrent Monitoring, you could do five, ten or more checks from multiple locations at the same time. Multiple simultaneous checks mean you get results from your chosen checkpoints all at the same time. You get more comprehensive data and catch partial outages sooner.
Alerting
Always know your service status
When your website, application, API or server is down, it is good to be the first to know. Uptrends checks your online status 24/7, and alerts you and your team the moment Uptrends confirms the problem with our advanced alerting system.
Learn more about alerting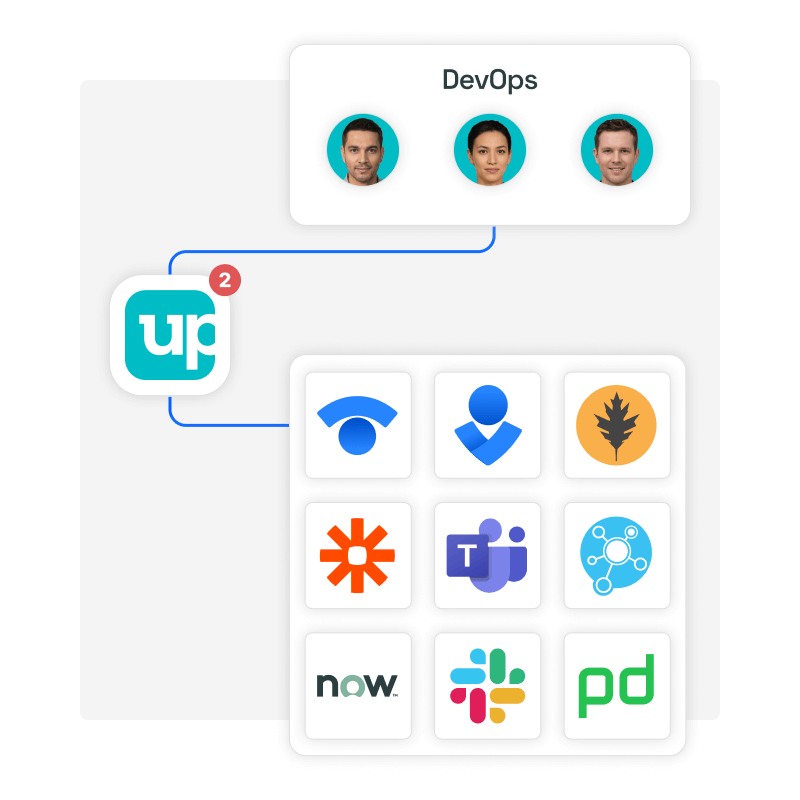 False alert free
You should feel confident that the right people will get the information they need, at the right time. With Uptrends' downtime double-check, we confirm the error before sending out alerts.
Escalation levels
Prioritize your alerts with customizable alert definitions, which ensures that notifications go out to the members of your organization in the order that you need to tackle a downtime issue.
Scheduled maintenance
Avoid corrupting captured data by scheduling automatic tracking pauses when your website, servers or other web services are expected to go down for a period of maintenance.
Integrations
Integrate with popular tools your team already uses such as: Slack, PagerDuty, StatusHub, VictorOps, ServiceNow, Opsgenie, Microsoft Teams, and webhooks. Or you can build your own custom integration!
Uptrends' API
The Uptrends API lets you retrieve the data from your Uptrends account. This includes the current status of your monitors, statistics of the performance of your monitors and monitor groups, and the alerts history of your monitors.
Push notifications
Using Uptrends' mobile apps for iOS and Android, enables you to access your most vital monitoring data, including uptime, error, and load time status. You can even configure the app to send push notifications!
Users
Uptrends is built for teams of all sizes
Our website monitoring solution gives you the power to share data insights with your whole team, so you don't have to go it alone!
Off-duty schedules
No one likes to have to think about work when they're off-duty, so we've made it so they don't have to (at least with alerts). You can set up regular "off-duty" schedules so that your team can get some R&R.
Operators/Operator Groups
We've made it easy to add any member of your organization to your paid Uptrends account. Add members with flexible options that make it possible to filter or partition capabilities according to the member's unique responsibilities.
Monitor permissions
Set up rules that apply to specific monitors, and dictate the level of access that a specific user has over those monitors. Only available in the Enterprise plan.
Reporting
Control your data — like a boss
View your website performance monitoring details right out of the box with our series of unique dashboard reports. These dashboards compile the most commonly accessed reports for advanced root-cause analysis, so you spend less time troubleshooting errors and problems.
View reporting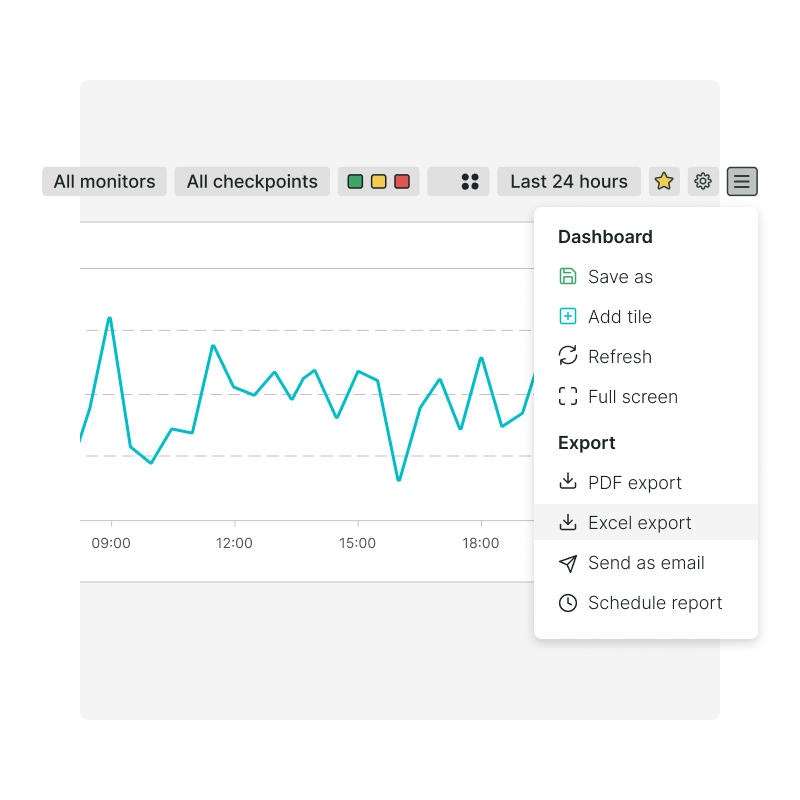 Email reports
Automatically send emails containing your favorite dashboard reports via PDF or Excel to any recipient of your choosing. Sharing your data amongst your teams and colleagues has never been easier!
Know your history
Keep archival records of your synthetic website monitoring data, so you have the sample size you need to make decisions. Your reporting history is stored for as many as 2 years, depending on your plan.
Simple data export
Want to play with your data outside of a dashboard, or simply keep a print record of specific findings? We've made it easy for you to export any dashboard report to Excel, email, or PDF with just a few clicks.
Public Status Pages
Keep customers in the loop
You can easily update customers on your service status using a public status page. Your users want to know what is going on when a service failure occurs, so give them what they want, with select website availability charts, tables, and metrics. It's easy to customize and embed on your own website.
View Public Status Pages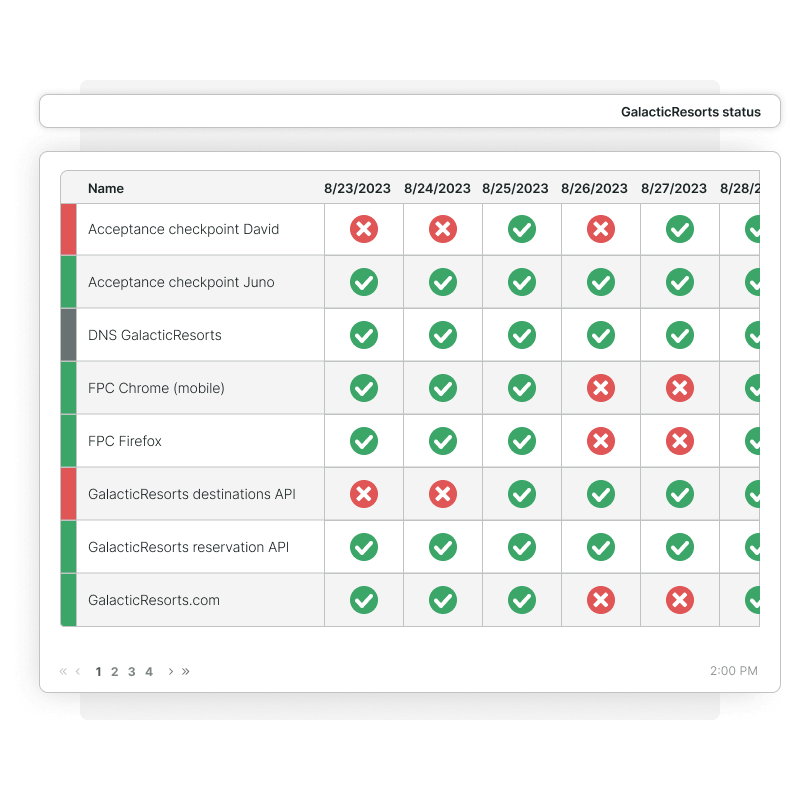 Unique URLs
Each Public Status Page gets a unique URL. With unique URLs, it makes it really easy for you to share your website's status with your fans.
Embed Your Data Anywhere
Take full control of your public status pages by embedding them within any externally hosted website with an easy-to-use iFrame shortcode.
Customize the Look
Make your public status page your own and customize the appearance with options designed to help you match your branding.
Security
Security is our top priority, so you don't have to worry
Two-factor authentication
Many APIs require that the caller specifies authentication information to verify their identity. We support two-factor authentication (OAuth 2.0), so you can acquire an access token from the API, for use in later requests.
Single-Sign On (SSO)
Uptrends supports Single Sign-on, so that you can control access from a centralized console for a fast-changing workforce. Any product that can support the SAML 2.0 protocol for Single Sign-on should work.
ISO 27001 security compliant
Uptrends achieved and maintains its ISO 27001 compliance to guarantee you that we have the processes and procedures in place to keep your information safe.
The Uptrends Vault
The Uptrends Vault restricts access to your sensitive certificates, keys, and credentials. The vault makes them accessible but not visible in your monitor settings or your reports.
GDPR compliant
GDPR compliance is a European Union requirement that affects the collection, storage, transfer, and use of personal data. Uptrends is fully compliant with the regulation.
Centralize SSL Certificates
SSL Certificate Monitoring gives you a central location to track certificate information and sends alerts via your alert definitions, so you don't have to worry about unexpected SSL certificate warnings.
Support
Be backed by the best in the business
Have a problem? Don't panic! Our support team is standing by to assist you with any issues you may be facing; we work together with you to deliver a solution quickly and efficiently.
Quick turnaround
We know how frustrating it can be to have to wait days for a simple question to be answered. We strive to respond your inquiries quickly and arrive at a solution that directly addresses your concerns. All you have to do is log in, and file a ticket!
A Handy Guide
It's okay to need help! New things can be overwhelming. That's why we've built an easy-to-understand series of online courses that outline the basics of our software, called the Uptrends Academy.
Ready to give it a try?
Getting started with Uptrends is easy. Simply sign up for a 30-day, risk-free trial, and you'll be up and running in no time.
Try Uptrends for free